I actually wanted to write an article about George R. Lawrence, the extreme photographer with the giant camera: around 1900 Lawrence built the world's largest camera after he got an order from the Chicago & Alton Railroad company to show their new and long trains on one single photograph. Well Lawrence built a camera heavier than 1,300 pounds or 600 kilograms. Called "mammoth," it had to be carried by 15 men. But then I came across the world's oldest photography museum that's now part of Google Art Project. Think what you want of Google, mostly they do great stuff, such as the virtual cataloging of the George Eastman House.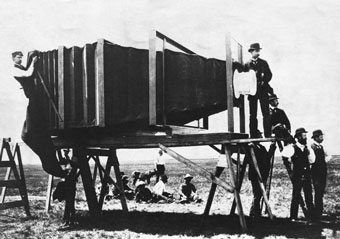 The George Eastman House, self-declared "world center for the image," is actually the first museum of photography to join the Google Art Project, a digital collection for works of art.
Without leaving your couch, you can visit the project online and enjoy more than 40,000 works of art from across the world; among them treasures of the George Eastman House which is the oldest museum of photography and photo technique.
So far the museum has added 50 images to the project that show photographic techniques spanning from the 1840s to the late 1900s, among them older classics as well as more modern works, such as photos of Dr. Martin Luther King and Frida Kahlo.
If you happen to be in upstate New York, it's compulsory to visit the museum in Rochester near Syracuse, around the house and gardens of George Eastman who founded the Eastman Kodak Company in the late 1800s.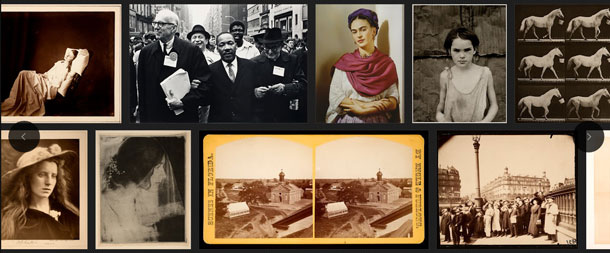 Even though, well, maybe you don't have to leave your couch — gosh am saying this as a photographer! One of the beauties of the Google Art Project is that it not only gives you access to high resolution images of photographs and works of art — that's right, you can zoom in to nearly pixel level –, you can also easily access supplementary information about the works.
Google Art Project offers a sort of convenient virtual field trip to museums most of us would never have a chance to visit. Now you can visit a museum a day.
BTW, also have a look at the project's 60 artworks of the Online Photography Course, showing iconic images from the collections of famous museums, among them works of Alfred Stieglitz and Dorothea Lange. And as I pointed out in the past, don't look for smooth bokeh and creamy background blur. World's iconic photographs show depth of field