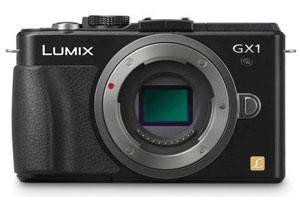 Doesn't happen every day, the Micro Four Thirds Panasonic GX1 16MP for 72% off list price, that's $199 for this powerful little performer.
The GX1's a straightforward, solid photographic tool that does a very fine job at what it sets out to accomplish. An ideal little pocketable backup camera — just add the super tiny 20mm F1.7 pancake and you have one of the most compact in it's class.
Or even better, pair it with the 14mm F2.5 and you get the magic 28mm equivalent, in my opinion THE focal length for street and documentary photography. Together, this package currently costs a mere $350…
Order the GX1 from Amazon.
Also check out Adorama, they have great GX1 offers and bundles!