The very compact camera indeed, the Canon PowerShot S100, $151 off on Amazon. That's nearly 30% less than list price for this truly anywhere compact camera.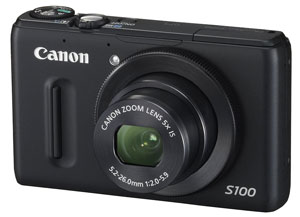 DP Review's S100 verdict:
The Canon S100 is particularly well-suited to two types of photographers: compact camera shooters looking to upgrade to a similarly small camera with more control, raw mode and better image quality, and ILC photographers looking for a truly compact "take anywhere" pocket camera with much of the same manual control as their larger cameras. The addition of GPS and full HD video recording make the S100 feel more complete than the S95, which was a very capable camera but in some respects lagged slightly behind on its feature set when compared to the competition. The additional lens range, too, is very welcome, and makes the S100 just that little bit more versatile than its predecessors.
Get the Canon S100 on Amazon.