I'm doing some traveling right now with two exciting cameras in my bag — two M cameras to be more precise: a Canon EOS M and the Leica M Monochrom (with the stellar 28mm Cron and 50mm Lux). Both mirrorless, both totally different beasts. The other day, however, when going skiing, it was a no-brainer to leave the Leica at home. Did a little video testing with the Canon EOS M. How does the Canon mirrorless perform? Nicely! But with a little more effort by Canon it could do even better.
+++ For our full Canon EOS M review go here.
Overall, the Canon M is a solid video performer. Movie auto exposure works quite well and movie record size 1920×1080 @ 25 fps performs as it should: reliably. Well I'd prefer 30 fps… Alternatively, there's the 1280×720 (720p) @ 50 fps choice. Good enough for my needs. Another plus: In movie mode you don't have to change anything to shoot stills — even while filming. Just fire the shutter button. Hitting the movie start/stop button accidentally is rather impossible. It's well embedded and protected in the upper right thumb rest.
The EOS M, as a video camera however, makes me miss the Olympus OM-D E-M5's 5-axis stabilization — see our test right here. But you can't compare apples and oranges, can you. The M just doesn't compare to a camera with a more state-of-the-art stabilization system. The Olympus? Can hold it with one hand and walk, and the video won't show any shaking. The Canon does.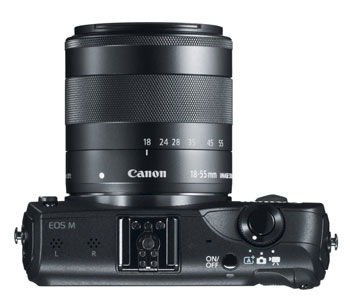 The microphone, on the other hand, delivers good clear crisp sound. Don't forget to enable the wind filter when shooting outdoors, even though it somewhat diminishes the sound quality.
There's also an attenuator function to reduce audio distortion in extra loud situations. Still, for best audio quality buy an external microphone, the built-in stereo mic won't satisfy delicate ears.
Autofocus? If you're filming wide you're reasonably safe. But not at longer angles. Face detection works in movie mode, but you can't save a known face. So when filming in a crowd AF will most likely jump from face to face.
And you like image effects? The M won't disappoint. What's possible for stills is possible for movies. So… everything's honky-dory?
Not really. In bright daylight with a clear sky and strong sun, I wasn't able to see a thing on the M's screen. Framing and shooting was more of a hit-and-miss exercise. Not to mention the inexistent tiltable screen. Canon successfully prevents this mirrorless offering from being a perfect little allrounder.
Canon listen, a screen that not only a family filmer can tilt should be standard. Don't just copy what Nikon does. Yes, their mirrorless Nikon 1 cameras all have a fixed screen. But not every photographer is a fanboy and most of them are very much capable of choosing and buying what serves them best.
As a video camera, strictly speakingthe, EOS M could well deserve some more bells and whistles. You get the basic package. Not less, not more. In terms of IQ the Canon delivers. But not in terms of what the competition offers additionally.
One would think it's not a question of Canon's technology, but rather of Canon's willingness to offer more refined video capabilities. Question however is for how long they can milk the golden calf a.k.a the DSLR. People ask for the real thing in mirrorless. True, less can be more. But not necessarily in the camera world.
And you ask how the Canon EOS M fares as a stills camera? We'll let you know soon when we post our real world review. This much for now: as a stills camera the M scores substantially better.
As the proof of the pudding is in the eating, here's a day's videoing yield. But bear in mind, after reformatting and compression an upload on Vimeo or YouTube (see here) never looks like the original in full HD quality:
+++ You can order the Canon EOS M from Amazon, B&H or Adorama.