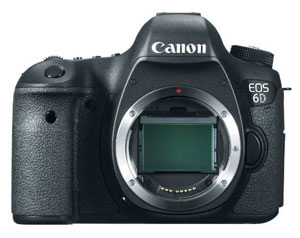 Either from eBay or Adorama:
A Top Rated Plus eBay seller has the full-frame 6D body only for $1,669, that's 20% off list price. Comes with memory card, battery, charger and case.
Adorama's 6D bundle includes EF 70-300mm F4-5.6 IS USM lens, 32GB 200x SDHC memory card plus camera carrying case. Including $400 instant rebate of 16% off that makes $2,149 for the bundle.
The choice is yours.
Or have a look at eBay's other EOS 6D listings.
For complete 6D camera reviews and hands-on reports, check our continuously updated The Canon EOS 6D File.