Like many good ideas, this one as well began as a Kickstarter project, asking for financial pledges to fund "CameraMator — Wireless Tethered Photography." The project has now become reality. No wires. No worries. CameraMator allows you to control your Canon or Nikon DSLR and review images with an iPad, iPhone or Android devices.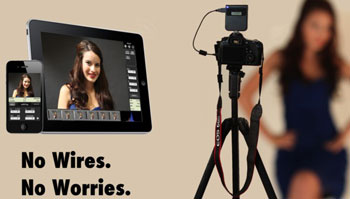 You would that think these days any serious camera should be able to seamlessly communicate with a computer or handheld device. Far from it.
A new innovative upgrade kit now teaches Canon and Nikon DSLRs what their companies failed to do. CameramMator has developed a Wi-Fi module that slots into your camera's hot shoe and hooks up with Android and iOS devices that have the corresponding app installed.
CameraMator attaches to your DSLR's hot shoe or tripod and plugs into your camera via USB. It then establishes its own Wi-Fi connection between itself and your remote device. When you snap a photo, CameraMator instantly sends the photo to your device, allowing you to review and process your shots on a bigger and better screen.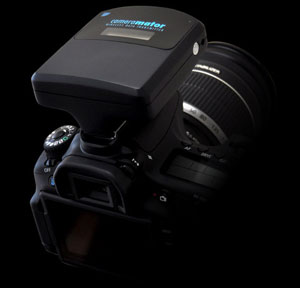 Control your DSLR from your preferred device. You can then view and preview your images remotely on your tablet or phone screen and control some camera functions including aperture, shutter, ISO and white balance. Or use your device for instant image review, HDR bracketing, self-timer, photo sharing or as an intervalometer.
The idea that something essential is missing in DSLRS originated during a trip to Florida in late 2011 when CameraMator's innovator Usman Rashid attempted to connect his DSLR to his iPad and transfer images in real-time. Finding no adequate way to do so, he set out to build a device that would allow wireless tethered photography.
Further features are planned for the future. CameraMator is now available to order for $299. A list of currently compatible cameras can be found here.
Alternatives?
Direct rival CamRanger for the same price. Or why not free way cheaper Triggertrap, a highly configurable remote release for your camera with never-before-seen ways of triggering a camera…