Chapeau, Pope Benedict XVI, for being the first pope in 719 years (since Coelestin V. in 1294) to, well, retire. Forget conspiracy theories. A very powerful man breaks a powerful taboo and does the unthinkable. It's the triumph of the spirit over the flesh. The former Cardinal Joseph Aloisius Ratzinger has to be given credit for acknowledging that his "strength of mind and body" had "deteriorated." What Pope Benedict has to do with photography site THEME? Let's mark the occasion with remembering Arturo Mari who has worked for more than five decades as a papal photographer and whose photos appeared in the pools of Getty Images and Corbis.
After having more than five decades photographing six popes, Arturo Mari hung up his cameras in 2007, retiring as the Vatican's official photographer. To my knowledge no successor was named. Maybe Pope Benedict saw no need to. As he saw no need to tweet. Only last December the pope activated his Twitter account @pontifex for meanwhile 1.5m followers with by now three dozen tweets.
Mari again, the main photographer for L'Osservatore Romano, the Vatican newspaper, began his career at age 16, working for an agency on an assignment to photograph Pope Pius XII wearing a crown and being carried on a gestatorial chair at a beatification ceremony.
He documented Pope John XXIII announcing his plans to convoke the Second Vatican Council.
And he was in St. Peter's Square in 1981 to capture the image he described as "the photo I truly never would have wanted to take" — Pope John Paul II lying in his secretary's arms after being shot.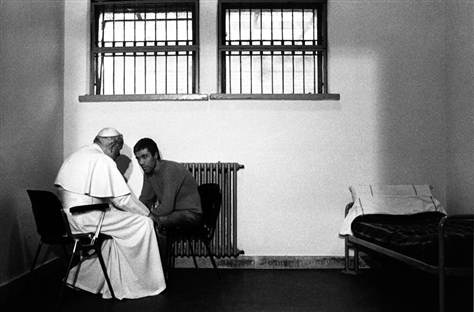 He accompanied Pope Paul VI to the Holy Land in 1964 and has been on every papal trip abroad since. Considering that Mari said he could take up to 3,000 shots at a normal weekly general audience, the trips were a major source of papal images.
One can assume Mari took millions of images during this half a century as papal photographer.
Shortly before his retirement he said that when Pope John Paul went to Argentina in 1982, "I left Rome with 600 rolls (of film) — there weren't digital cameras then — and, once there, the nuncio had to go out and buy another 200."
He also said that being a papal photographer means being close to the pope, not only physically, but also mentally and spiritually as well.
"Without such a feeling, everything is flat; it becomes a shot anyone could take."