In case you missed it, interesting documentary by Keanu Reeves out in cinemas: Side by Side. Join Reeves on a tour of the past and the future of filmmaking. Since the invention of cinema, the standard format for recording moving images has been film. Over the past two decades, a new form of digital filmmaking has emerged, creating a groundbreaking evolution in the medium. Reeves explores the development of cinema and the impact of digital filmmaking via in-depth interviews with Hollywood masters, such as James Cameron, David Fincher, David Lynch, Martin Scorsese, Steven Soderbergh and many more.
The BBC's online report Side by Side — Keanu Reeves Examines the Future of Film (read the whole thing) cites Reeves as asking, "Is this the end of film? Is digital going to replace it? What are we losing if that happens and what are we gaining?"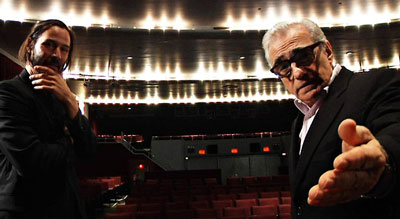 The transition from film to digital has long reached the motion picture industry. Skyfall, for instance, was the first Bond shot entirely digital.
In this documentary the actor serves as producer — and admits that if you're not an aficionado, the average cinema-goer doesn't care or notice what format the film is in, as long as it was working.
Nonetheless, says Reeves, "a perfect film print projected is something that is remarkable and unique."
Filming on celluloid is an expensive and time consuming process. Reels of film that each contain about ten minutes of footage are developed overnight, creating "dailies." Viewing them is the first chance a director will get to see the product of his previous day's work.
It is only then they discover if they have the right shots or if they have to go back and re-shoot.
The advent of video cameras showed not only that filmmaking could be done at a fraction of the cost, but that you could see the results immediately. It also enabled anyone to effectively become a filmmaker.
The invention of low price digital cameras further democratized the filmmaking process.
Directors Martin Scorsese, Christopher Nolan, David Fincher, David Lynch, James Cameron, Danny Boyle, George Lucas and cinematographers Wally Pfister (Inception, The Dark Knight) and Roger Deakins (Skyfall, True Grit) are all present.
Reeves conducted a large share of the interviews himself, which not only helped the filmmakers gain such unprecedented access but also made for a series of relaxed, open conversations.
Advocates for celluloid include Inception director Christopher Nolan and cinematographer Wally Pfister, who maintain digital images will never have the depth or clarity of film, which they insist on using.
Also read the movie review of the New York Times — and here's the official U.S. trailer: