By CHRIS KOVACS
Adore Noir is a fine art PDF black-and-white photography magazine which was conceived in February 2011 by husband and wife team Chris and Sandra Kovacs. In just over two years they have produced thirteen issues and have featured emerging, established and world renowned photographers. It is this eclectic mix along with Adore Noir's feature interviews with photographers, renowned gallerists and photography personalities that have made this magazine popular. Each issue is an oasis of black-and-white imagery with a look into the minds of each photographer as their inspirations and creations are discussed in a Q&A style interview.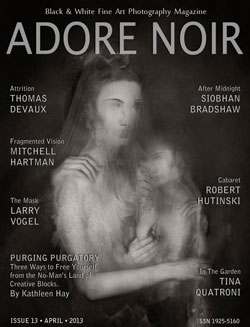 Every issue features six photographers who receive a generous twelve pages in which a portfolio of their work and an interview are presented. Adore Noir has featured award winning photographers from every genre including such notables such as David Burdeny, David Fokos, Deborah Parkin, Susan Burnstine, Dominic Rouse, Larry Vogel and Susan Kae Grant.
Adore Noir ("Adoring Black") likes to get behind the scenes to ascertain how images are processed and inspired. It is a magazine for the photographer, the collector and the admirer. The magazine's clean lines and sole black and white focus create a space free of clutter where the mind can enjoy and process the images presented.
Adore Noir celebrates creativity and delves into its many facets through essays and articles by the likes of Kathleen Hay, Sandra Djak Kovacs and Chad Kushins. Many topics are explored such as, just to name a few, Creative Blocks, The Muse, Censorship and Art vs. Science.
No topic is too big or too small in its relation to the creative spirit. The photo has evolved historically from its pinhole beginnings into the digital darkroom of today.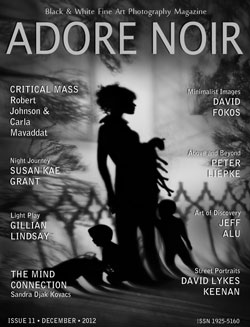 Adore Noir features articles that explore this evolution along with modern day photographers who choose to use pinhole cameras and other alternative processes, for example, Susan Burnstine who makes her own cameras.
The choice that is open to photographers today is wider and vaster than ever. Adore Noir celebrates this choice by featuring many different styles and exploratory methods. The proliferation of the various devices that have evolved due to the explosion of the internet and in particular, the iPad has created a space for Adore Noir where we can connect the reader with a sweeping range of fine art photography.
Our readers tell us that they devour our issues, that they are impressed by the quality in our magazine. Adore Noir was born out of a pure love for the art of photography and it is our goal to continue to deliver on both our passion and our reader's passion.
Adore Noir magazine is set to launch its fourteenth issue on June 1, 2013. Current issues as well as back issues and bundles can be purchased from www.adorenoir.com.
You can follow Adore Noir on Facebook and Twitter.
Chris Kovacs is the founder of Adore Noir magazine and currently holds the position of editor/publisher. Chris is also an award winning photographer with works published in numerous magazines worldwide such as Black & White magazine, Practical Photography and Digital Photo Pro.

Chris has judged numerous photography competitions with the most recent being "The World Open Of Photography 2012," Lightbox Gallery's "The Photographic Nude 2013″ and "Rangefinder Magazine's B&W + Alternative Photographic Process Contest."