This is quite some work by German photographer Helge Hackbarth of 3D-Kraft! Helge compares a unique collection of super fast — some F0.95 — 25mm, 35mm and 50mm prime lenses. His posts are for connoisseurs of bright, hyper fast and wide lenses, and whom better to ask than Helge who prepared some extensive reviews.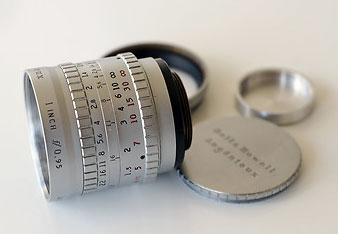 In the first article of his series, Adorable 50s, we're in for real treats:
In Adorable 35s, Helge examines a collection of super fast 35s, such as the SLR Magic HyperPrime CINE 35mm T0.95, Mitakon 35mm F0.95, Canon EF 50mm F1.4 (with the Metabones Speed Booster, converting it to a 35mm F1.0 lens), the Leica 35mm Cron ASPH and Lux ASPH — and last but not least the Samyang/Rokinon 35mm F1.4 AS UMC.
In the next article Adorable 25s, it's the turn of fast 25mm F.0.95 lenses — among them the truly adorable P. Angénieux Paris 25mm Type M1 F0.95, a collectible among lovers of the craft.
Conquering the Darkness finally is dedicated solely to the HyperPrime CINE 35mm T0.95.
Now you got quite some reading to do. Enjoy!