Surprise, surprise. No one expected this one. But what to think of the latest mirrorless kid on the block, Hasselblad's peculiarly different Lunar? How many trees do they chop down for it? A toy for the wanna-look-rich? Seriously, am kind of flabbergasted. One thing is sure, it's a victory for Sony on many fronts. Because basically the Lunar's a dressed up NEX-7. And now Hasselblad's at the mercy of the rising Japanese.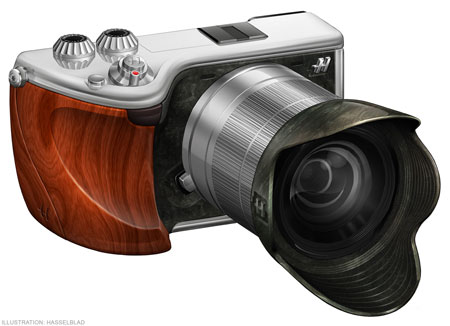 Thing is, Hasselblad teams up with Sony's E mount and releases the Lunar (specs). No, that ain't no space ship. No doubts about the image quality. Overall concept though? Read further below why there is only one way to understand this tie-up.
Turns out that Dr. Larry Hansen, appointed Hasselblad chairman and CEO in 2009, was in charge of swapping labels between Zeiss on one hand and Sony, Cosina and Kyocera on the other. So he is knowledgeable in the game of swapping labels. Maybe this time he has taken label swapping a bit too far. Looks like "Hassleblad" managers are now the Wall Street Bankers of the photographic world. Reviled world-wide. More on this further below.
Hansen's first executive, and explicitly not photographic triumph? The Hasselblad Lunar, the latest, queerest mirrorless interchangeable lens camera on the market with a price tag of some €5,000. Pseudo-Leica consumer league.
That's what a Sony NEX-7 in elaborate disguise costs. And that, BTW, is not the latest NEX… The Lunar shares the same 24.3MP CMOS sensor, OLED EVF, TriNavi navigation system and more
The Lunar — don't forget, a Hasselblad space camera went to the moon on board the Apollo 11 — this Lunar will be available "in a choice of standard models plus a variety of exclusive hand grips and precious materials on special order." Please forgive, but somehow this is pure camera porn.
A perfect union between camera and man has been a complished, according to Hasselblad.
That's not all of it: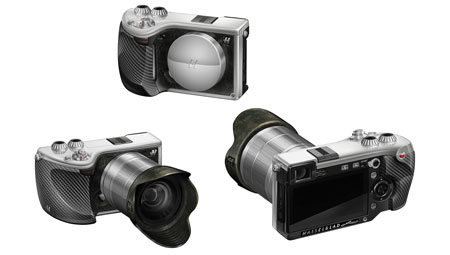 In 1962 astronaut Walter Schirra took the first Hasselblad camera into space. Schirra had painted the 500C's metal surface black to minimize reflections.
Now, in celebration fifty years later, Hasselblad developed Lunar — an "aesthetically and ergonomically beautiful piece of camera art, complete with color options and an evocative vintage look and feel, for photography lovers down here on planet Earth."
But then again, it's just a Sony, a NEX in a fancy and expensive dress… Good catch Sony, you're really moving up the ladder.
Hasselblad's ambitious though and unimpressed. Says Hasselblad chairman Hansen:
This new model is the result of meticulous engineering research, culminating in the creation of an unprecedented camera which underpins the Hasselblad mission to pioneer and produce supreme quality across all our products.
Some of the Lunar's goodies: everything the NEX-7 has, plus the peculiar design, superior ergonomics, prime materials used and, well, the extras.
Hasselblad's new business development manager, Luca Alessandrini, goes into damage control mode and counters growing sharp criticism (well people don't seem to understand the product):
This is not a NEX-7 camera, just because we are buying components from Sony. The hardware is just a small part of the whole. It's not because we're using a Sony sensor that it makes the Lunar a Sony camera.

For example, the camera's body is made of aluminum. It takes five hours to machine this down. You can only produce three or four a day, and it costs €300. The same part, but made of plastic, would cost 35 cents. So, you could go to Asia and do a similar product for a few hundred euros, but you would be using cheap materials. Or you could use the right materials and the right processes, but it will have to be priced at €5,000, €6,000 or €7,000.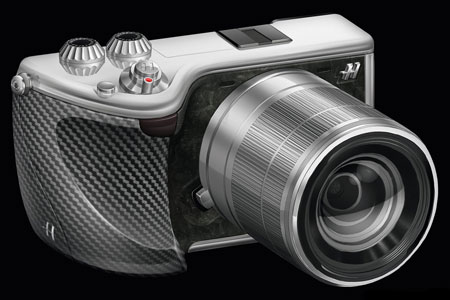 Thing is, Hasselblad didn't invent anything for ten years. They lost the pro market and now they try to catch the amateurs willing to spend $6k on a pimped up Sony.
But the true Hasselblad disciple never gives up hoping that real, new Hasselblad products are coming some day to come. Codename: a courageous V System revival.
Personally, hopes are high for a full-frame Hasselblad-Sony with all of Sony's bells and whistles, such as SLT. Well all we know is that Hasselblad confirmed that "new products for DSLR and compact camera segments" are in the pipeline.
Well Hasselblad's future is now bound to Sony. Want to know why? From Photo.net:
There is only one way to understand this: A group of new owners with limited knowledge about the photographic market has stormed into Hasselblad and told them up the ante. The result is apparently the idea of selling empty cameras with a mahogany handle and a Hasselblad label. The person I really blame is the Hasselblad CEO, Dr. Larry Hansen, who sits in Denmark with the rest of his Danish team while the working part of the company is back in Sweden.

"Dr. Hansen was appointed Hasselblad Chairman in March 2009. He has 26 years of experience in top management positions in the German based optical and opto-electronics firm Carl Zeiss. The last 16 years Dr. Hansen was CEO of the Carl Zeiss Asia Pacific operations based in Japan. In this role Dr. Hansen initiated and developed thriving photographic business co-operations with Japanese corporations such as Sony, Cosina and Kyocera."

It turns out Larry Hansen was in charge of swapping labels between Zeiss on one hand and Sony, Cosina and Kyocera on the other. So he is knowledgeable in the game of swapping labels. Maybe this time he has taken label swapping a bit too far.

It goes to show that achieving an executive position in a field has nothing to do with good judgment or understanding the overall business.

Larry, you have nothing to gain by sinking Hasselblad. You are old and well enough to retire. It is time to go!
Feeling blue, but still can't get enough? Check out this video from Hasselblad TV: Experience the New Hasselblad Lunar Camera.
Also, the dedicated Lunar website is iconic, well worth a visit, check it out.