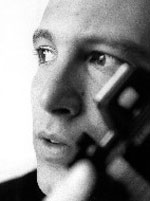 By LORENZO MOSCIA
We all know that what is really important about taking pictures is not the camera but what you put in the frame. Given that I still think that I like to work with tools I feel comfortable with. For example, I cannot stop thinking about my days in Cuba, Haiti or Brazil back in 2004 with my Contax G2 and its three Carl Zeiss lenses — loaded with Kodak, I think it was a Portra 400 pushed to 1,600. No Photoshop or Lightroom needed. Those pictures just come out right.
Is like thinking about an old love story with a girl that just ended up too soon. I used that camera until 2007 and boy I loved it. I had a Nikon F100 as well — and I could spot the difference just by looking over the contacts from a distance.
The details of the Zeiss Contax glass were mind-blowing. I don't want to get into digital film controversy, but I am still hoping that someone might come out with a digital version of that camera. Fujifilm might get close, but not yet, and I didn't have a chance to taste others.
I have always been a Nikonist just because when I wanted to buy my first camera in 1997 there was a second hand Nikon FE available. I got it with the Nikkor 35-70mm F2.8 and a 24mm.
When I switched to digital in 2002 I obviously wanted to stay with Nikon in order to use that lens. And I did until the D600 which I really very much enjoyed. I have to mention that I also use a Leica M9 which I love it, but even if I got a used one and I don't go on an assignment without it, she left me down so many times. Thinking about the price of the camera makes me feel sick. Come on, 6,000 euros for a camera that all of sudden just stops shooting?! I love the files until ISO 800 — but will never go on an assignment just with the Leica. I don't trust it.
Then, in the beginning of this year, I was in Belfast with a photographer friend. One morning it was snowing so much that we stayed home. He had a Canon 5D Mark II with the 35mm F1.4 and 16-35mm F2.8.
So I put the two cameras side-by-side and took the same scenes. When I was playing with his Mark II I started to really like the body and silence mode. And who doesn't love the focus in low light. The D600 would always miss it because I deactivated the internal light that helps focusing. How can I leave it on? It frightens people.
I opened the files in Lightroom and I noticed how the Canon colors where more accurate in difficult lights. With RAW files I can adjust the D600 files to get rid of the yellow-greenish cast. I think the D600 is a great camera. Shadow recovering is excellent and kicks the ass of the Canon. But I liked the texture and feel of the Canon files more. They reminded me of my analog scans.
The skin tones, the camera's flexibility and video (I do video as well) convinced me to switch. Not that it was easy. It took me ten months. I was lucky enough to sell my Nikon for a good price and get a new Mark III with a used 16-35mm F2.8 for as little as 300 euros more. And I kept my 35-70mm and 24mm Nikkors. No way I'm going to leave them.
During the first days I couldn't sleep at night because of the 5D's vertical lines. Then I came to understand it. Today, I just love how the Canon works. I love the silence mode, Nikon's doesn't compare. Of course it's depressing when you realize that Canon didn't improve the shadow recovering from the Mark II, but I guess it was too much to ask.
Lorenzo Moscia is an Italian photographer and regular contributor to THEME.