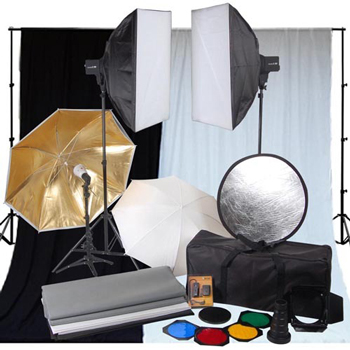 From eBay for $319, that's way down from the $691 list price:
A brand new professional 345 watts studio flash lights/strobes kit at a reasonable price. The kit is suitable for professionals and photo studio. It is a perfect solution to produce photo and video for Web retailers and commercial product catalog. Very easy to use and setup in minutes:
Perfect for any objects, such as portraits, costumes, furnishings, etc.
Best color temperatures to prevent from color aberration
Powerful total 345 watts lighting to provide a sufficient exposal and brilliant image
Soften lighting with soft box/umbrella for reducing overexposure and hot spots
2x flash lighting strobes with 1x flash light for bathing object in dimensional lighting
Easy to control your strobes with a test button and variable dial for power setting
Seamless and non-reflectable background for less post processing
Strong support capacity of background support but lightweight
Assembly frames for suitable background of different size objects
Multifarious light shaping tools for satisfaction of different photography wants
Set up in minutes to offer you a professional photo studio
For 110 voltage
What's in the box?
2x 7 Feet Light Stands
1x 30 Inches Light Stand
2x 150 Watts 5500k Strobes
2x 75 Watts Modeling Light Bulbs
1x 45 Watts 5500k Flash Lamp
2x Sync Cords
1x 33″ Translucent Soft White Umbrella
1x 44″ Double Layers Silver-gold Umbrella
2x 20″ x 28″ Soft Boxes
1x Silver-gold Reflector
1x 13′ x 10′ Background Support Stand
1x 10′ x 20′ Gray Backdrop
2x 6′ x 9′ Backdrops (Black and White)
1x Four-Leaf Barn Door & Honeycomb Kit
4x Gels (Red, Yellow, Blue, White)
1x Snoot
1x Slave Flash Trigger
1x Large Carrying Case
1x Carrying Case for Reflector
1x Carrying Case for Background Support Stand
Order from an eBay Top Rated Plus seller for $319.