Point-and-shoots have come a long way since Sony gave the world its DSC-RX100, in name and form — at first sight — a clone of the Canon S100 that dominated the point-and-shoot market for quite some time. Well the little Canon today is nearly half the price of the Sony. That doesn't mean the Sony's twice the quality. But nearly. You get 20.2MP on a 1-inch sensor in a stunning little package.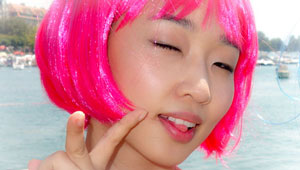 The Sony RX100's abilities — in such a small gestalt — are unheard of so far. We already dealt with the fact that the Sony is so much smoother and responsive than the Canon — read our The Canon S100 vs. Sony RX100 Metaphor. So deal with it, here's the new kid on the block that smokes the competition. Period.
Still, the RX100 doesn't replace a DSLR. There are good reasons why you need and love your bigger gear. DSLRs — or a fast mirrorless for that, such as the Olympus OM-D E-M5 — are here to stay. A smaller camera is for different needs. But the more advanced these point-and-shoots become, the more people will find out that they're basic needs are covered with smaller, lighter, more convenient and less expensive gear. The RX100 is convincing proof of that.
The Sony RX100 is a beautiful compromise. It's capable of much that a DSLR or mirrorless camera can do. What it can't do is easily compensated by what it does very well.
But first things first. I put the RX100 to the test, at the Zurich Street Parade, a steamy, hot, erotic open air street party taking place every August in Switzerland's largest city.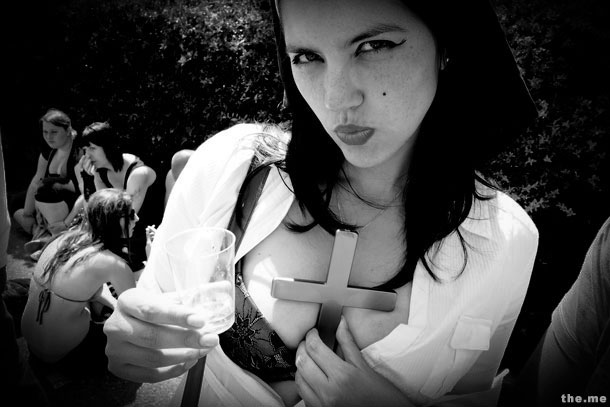 Size and Feel
Smaller would be too small, lighter too light. The camera's surprisingly comfortable to hold. The RX100's size is just about perfect. And it's not cheap plastic you're holding. Housed in an all-metal body, the RX100 has a solid weight that accentuates its build quality. Even the LCD cover seems reasonably scratch-resistant and there's no air gap between LCD and screen. Better visibility, no danger of dust creeping in, that's nice.
Same goes for the quality of the menu dial and lens wheel. Their operation feels solid and smooth. I could live without the time lag though when changing aperture, shutter speed or a menu item with the lens wheel. But that's peanuts. Nothing's loose on this camera, everything's well-built and tight. For any future RX, just make that base plate metal as well!
Also, the mode dial won't accidentally change position easily when put in a pocket — something that happens again and again with the lauded Olympus OM-D E-M5.
Sony even manages to avoid that dangling lens cap. The Carl Zeiss is self-capping. Nice.
Of Picture Effects and Filters
The RX100 offers — at least for my taste — far too many picture effects, including a flabberghastingly overwhelming variations of Toy filters. Most photographers will most likely never use most of the settings. So Sony, with a future firmware update, why not offer an option to select desired image effects and filters to burry burry the long list of unwanted ones in a backup folder.
Point is, you can lose valuable time when changing settings. For instance, the RX100 offers the High Contrast Mono and the Rich Tone Mono setting — who doesn't love the Sony's High Contrast Mono output! But the two black-and-white modes are far apart from each other. It's rather a question of luck to hit the right setting in time if you want to switch from high contrast to rich tone…
A clear plus of the menu setup, and that's something every camera UI should have: menu items either start at Previous or Top, so no need to scroll through the whole menu again and again to find an item. The choice is yours.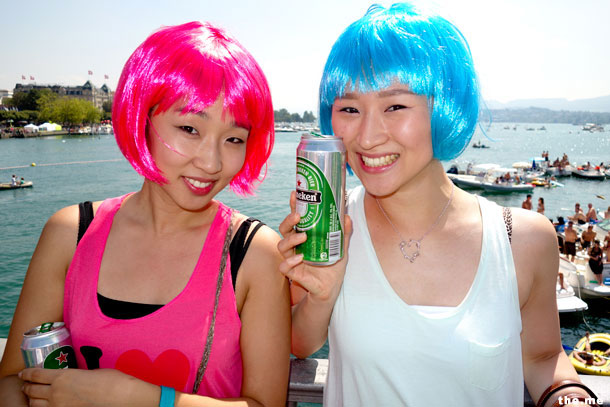 Smooth Operator
The RX100 allows for absolutely quiet shooting. Turn off those "beeps" and the camera operates deadly silent. You hear no zoom, no aperture ring, no autofocusing. Just smooth and quiet operation. Add the "touch" autofocus.
No need to press that shutter button. Just put the finger on the button, lightly, and autofocus does its part.
Battery, Flash, Macro and White Balance
The flash is surprisingly powerful and doesn't kill the battery as fast as you'd expect. It's a powerful fill flash, so even during daylight I wouldn't say no to use the flash by habit.
Talking battery, USB charging via computer is a bit slowish. Still, every camera should at least have this convenient option.
Macro? Dammit, that lens allows you a minimum focus distance of 5cm! Macro mode is chosen automatically when in Intelligent Auto or Superior Auto modes.
White balance is not always spot on, especially not in evening light. I ended up with strong red cast on skin tones. In this case you'd be safe with the Sunset preset in Scene Selection. Or there's always the option to ignore AWB.
Autofocus, I Wish…
Autofocus locks surprisingly well when shooting casual stuff. The average portrait, family or landscape picture is no challenge for the RX100. Even mildly moving objects are properly locked. You're quickly discovering the limits of this point-and-shoot though when trying to be brilliant at sports photography. Well there's the Sports Action mode, a nervous zooming in and out on the action.
With a little bit of practice you'll nail more and more shots. Get to know you're camera. But don't rely on the RX100 for fast moving subjects/objects, that's simply out of its league. You'll end up with a hit-and-miss exercise, really.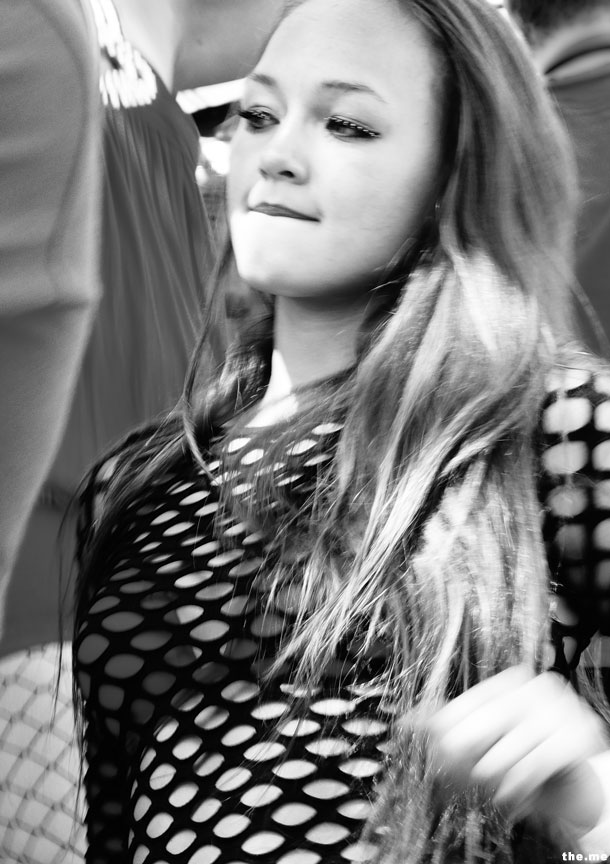 Sensor Size and Depth of Field
Part of the RX100's magic is the 1-inch sensor. It's smaller than APS-C or Micro Four Thirds, but still respectably large enough to provide reasonable bokeh when shooting at mid-range apertures and focal lengths. Wide open you get creamy background blur, matching the output of much bulkier DSLRs while keeping weight, size and also price down.
High ISO
The Sony RX100 is one of those modern-day cameras you don't have to worry about noise anymore. Just leave that Auto ISO on and stop worrying. Should you ever discover noise there's always the post-processing option. It goes without saying that the larger you print the more careful your exposures have to be.
As any comparable camera, the Sony's JPEGs has overzealous noise reduction which reduces resolution. Not a problem if you're not printing large sizes. Go RAW if you're overly concerned about noise, detail and ultimate image quality. Again, average shooters won't notice substantial differences in the end results. The exceptions are white balance and detail
ISO 3,200 is perfectly usable both ways. Shoot JPEG if you're not making large prints. Why be too concerned?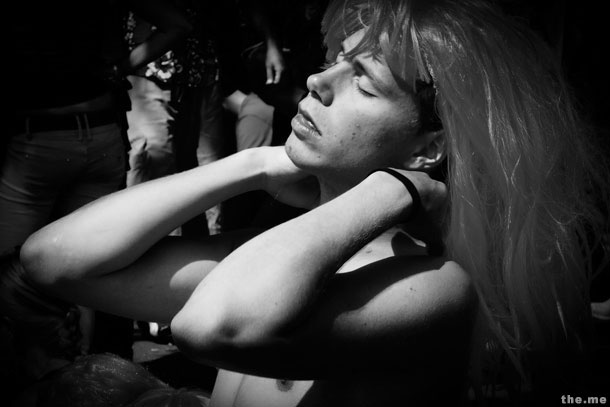 THEME's Take:
This is one of the cameras you don't have to wait for an RX200. Sure, there will be refinements, such as a more polished white balance, a less cluttered Picture Effect menu and better autofocus performance.
Hey, we're talking point-and-shoots! Still, autofocus is the bane of the RX100; it's the main reason to not praise the RX100 unconditionally. The Sony DSC-RX100 is a thoroughgoingly smooth operator, a kind-of-rangefinder experience that forces you to slow down. But on the assignment I've chosen for these tests — the Zurich Street Parade 2012 — I missed quite a few shots that wouldn't have been a problem with a standard DSLR.
Make no mistake: the RX100 doesn't replace larger, more powerful gear, despite all of its highly praised capabilities and power inside. The Sony is a great companion to produce high quality output in most situations, be it in difficult light, when trying to achieve shallow DOF or even in a studio setup.
The little stunner produces most satisfying output while not replacing larger gear that has the processing power. We're talking strictly autofocus here. But then again, who buys the RX100 for action tracking.
Still, the little powerhouse captures a respectable 10 fps in burst mode. In a controlled environment the camera's speed shooting won't let you down. Just don't think you can throw away the bigger gear when accepting a sports assignment.
Bottom line? The RX100 offers among the best of many worlds. Size, weight, build and image quality, processing power and optics belong to a class of its own. Best of it, the RX100 is a pioneer with its large sensor in a tiny body. The competition is alerted, rest assured that within a year or so Canon and Nikon will have a similarly compact competitor on the market. But there's no reason to wait. The RX100 offers already more than many a photographer can handle.
One of the best cameras I've ever shot with, and certainly, by far, world's best compact.
In the end, when looking at the results, you might scratch your head wondering: what, from this tiny little camera? It's a super-compact DSLR really, except for that action-tracking autofocus that I'd only use in a few cases anyway. So who cares. The RX100 is simply too much quality and fun to ignore.
Wisely used it can even replace your bigger gear, and you're back where you once were before you started buying all that heavy, cumbersome gear:
So light, so powerful, so good, the Sony RX100 makes photography fun again.
(For a complete compilation of Sony RX100 hands-on reviews and field reports read our continuously updated The Sony RX100 File.)
+++ BTW, why not order the Sony RX100 now from Amazon, B&H or Adorama. Alternatively, check out this great RX100 $806.99 bundle with case, card, etc., or the smaller $662.99 bundle. Third option: cheaper $665 bundle with spare battery. +++