We're a photography site, but as the iPhone dramatically changed the way people take pictures this can very well pass as a photography post. iPhoneography is a photography game changer, just to mention the myriad of apps that can give you a DSLR look shot with a smartphone.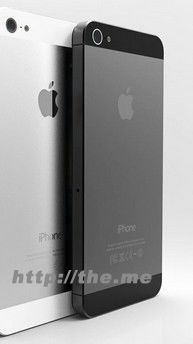 Word on the street is is the next, 6th generation of the iPhone is launched this September. That's also what our source is telling us, backing up the ETA with an inconspicuous JPEG.
Is this what the next incarnation of the iPhone will look like?
We think so.
Previously leaked images seem to confirm the black/white top/bottom sections, presumably marking the phone's screen area on front.
According to our source the iPhone 5 will be 10mm longer than its predecessor — as we all know to fit a larger screen — and slightly thinner.
We wonder though why the bigger screen doesn't make it wider. We're currently checking with our source.
So the iPhone 5 basically keeps the iPhone 4's form factor.
Apple sticks to a proven, cubic(ish) design that offers maximum possible volume relative to size, allowing to pack more hardware and a larger battery into it.
Expect rather cosmetic, evolutionary design tweaks — but revolutionary advancements under the hood.