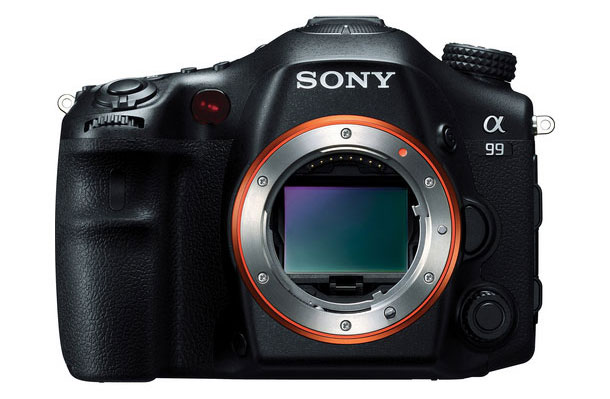 It took Sony some time to come up with a successor to its full-frame flagship, the trusty, chunky A900. Sony eagerly wanted to get it right. Now the Japanese introduce the long-awaited, all weather-sealed and ruggedized Sony Alpha SLT A99, promising a new performance standard for professional DSLRs by combining all of the benefits of full-frame imaging with the responsiveness and speed of Translucent Mirror Technology (SLT). The camera features a brand new 24.3MP full-frame image sensor, a unique dual phase-detect AF system and a host of other innovative technologies that work together to deliver the best image and full HD video quality in the history of Sony's acclaimed line of α cameras. The unique Dual AF System permits ultra fast, accurate autofocusing that maintains tracking focus even if a subject temporarily leaves the frame. According to Sony the A99 (specs) "redefines what can be accomplished with a full-frame DSLR." I have no trouble believing this. Add the splendid Carl Zeiss glass.
Read our definitive, continuously updated Sony Alpha A99 Reference File bringing you all the relevant A99 hands-on reviews and field reports that matter (latest update on top).
+++ You can order the Sony A99 from Amazon, B&H or Adorama. Body-only will be available this October for $2,799.
From Ken Rockwell's "full-frame faux-SLR" review, here's just a small selection of the positives (it's a work in progress, make sure to check back for updates):
Magical instant manual-focus override (Direct Manual Focus, DMF) mode works even with ancient MAXXUM lenses! Yes, the A99 turns your ancient lenses into lenses with stabilization and instant focus overide — features they never had originally!
Previsualizing electronic viewfinder lets us see exposure, contrast, color, white balance and more before we take the picture.
Electronic viewfinder lets us zoom, see playback, and set all menus right in the viewfinder. Playback zoom zooms way-in if you want.
And here's a quite telling update by Ken Rockwell — after years of CaNiKon DSLR reviews he really likes the camera!
As soon as you realize that this is a high performance full-frame mirrorless camera that just happens to look like a DSLR and takes MAXXUM and Sony SLR lenses, it all makes sense. I really like the images I can make with the A99. White balance and color are very good for people shots under any light, and exposure and focus are always magically dead-on. Regular DSLRs like the Nikon D600 and Canon 6D aren't as consistent; I get to the right shot faster with the A99 than I can with a real DSLR that requires more fiddling to get the first good shot.
Expert Reviews like the A99 package that's a pleasure to use and packed with innovative features. ISO 800 is virtually indistinguishable from ISO 100, they say. But there are a few shortcomings too:
It's hard to give an overall rating for the A99. We loved using it, and the small autofocus coverage was rarely a big nuisance. When we got the photos back home for inspection, we loved this camera even more.

However, while the heart is willing, we can't avoid making comparisons with other full-frame SLRs. We're not convinced that Sony has done enough to justify pricing the A99 above the Canon 6D and Nikon D600. A 4K video mode or 10 fps full-frame photo capture would have clinched it. As it stands, this is a seriously impressive full-frame camera but it's not our favorite.
Exceptional Imaging Resource review with stunning images by Scott Rinckenberger. Excerpt — but you have to read the whole thing:
Does the A99 live up to all the hype? For the most part it does.

We loved the design, ergonomics and control layout of the Sony A99, which borrows more from the curvy, modern aesthetics of the speedy Sony A77 than it does the classic A900. In fact, some may find it hard to tell the difference at first glance between the A99 and A77. But what's inside the Sony A99 is truly revolutionary. And the results are hard to deny (…)

As for video performance, the Sony A99 proved to be extremely responsive, and demonstrated very good detail and color with few compression artifacts, although we did encounter some rather noticeable moiré problems with some subjects. We're a huge fan of the A99's always-live phase detect AF, which easily keeps fast-moving subjects in focus while recording. Pros will love the external stereo audio input with manual level control and the provision of a headphone jack for audio monitoring. (There's even a clever option that syncs the audio to either the live action or the video stream itself.) The Sony A99's ability to output uncompressed video via its HDMI port is another huge plus for pros, allowing the use of an external video recorder. On the other hand, we weren't so impressed that the Shutter Priority, Aperture Priority and Manual exposure video modes were only available with manual focus, and the aforementioned moiré was fairly annoying.

All in all, there's little doubt that, Sony has created a DSLR that's packed with revolutionary technology, one that many pros will fall in love with instantly, and that many more will learn to love over time. For the first time, Sony has a full-frame SLR (more properly, SLT) to challenge Canon and Nikon, and even win a few rounds in the process.
Pocket-lint's A99 verdict headline? Digital disappointment:
Taken in isolation and the Sony Alpha A99 has the makings of a great full-frame camera: Sturdy build, a fast burst mode, decent image quality and an excellent movie mode are polished up all the more by quirky additions such as the silent mode dial, tele-zoom mode, built-in GPS and a vari-angle-mounted LCD screen. There are things here that no other full-frame camera offers, and others — such as the burst mode — that are, at least on paper, more familiar of a pricier pro body.

But for all its sweetened marvels, there are limitations in key areas at almost every turn. The autofocus system, while certainly capable, hypes itself up with its dual AF technology but, ultimately, comes up behind the competition's systems. The main focus points are also arranged too centrally — just like that of the Alpha A77 — and the sensor-level phase-detection pixels don't seem to add anything to the party, nothing that we could notice with a compatible lens anyway.

The fast burst mode may be one of the A99's killer modes, as that's what SLTs can do so well, but it's partially maimed by the camera's limited buffer. We're sure Sony could have squeezed more out of this, as it's not even as rapid as the Alpha A77.

And then there's the A99's battery life. Oh the battery life. It's miles off the mark compared to the competition, which feels mis-matched for a pro-spec body that's built to cater for shooting bags of images in all kinds of conditions. We'd recommend the battery grip, but this comes at cost.

It's hard to argue with the A99's pictures, although we did find there to be slightly more visible color noise than the nearest (and cheaper) competition.

From a movie capture point of view we're impressed with the A99 beyond all its peers, largely due to the continuous autofocus and abundance of controls on offer. For a capable and easy-to-use movie capture system we can see this Sony scoring highly with videographers. Yum.

This particular 99 is all cone and flake — it's a scoop short in a handful of key areas and, in particular when considering its nearby competitors, comes at a price that's a big push too. We don't doubt it can succeed as a top spec workhorse, but relative to what else is out there feel there are a couple of hiccups that cost this release.
PhotographyBLOG's review says the A99 combines virtually all of Sony's latest cutting-edge camera technologies:
All in all, there's very little to dislike about the new Sony A99. It may have a very similar design to the much cheaper A77, but then we really liked that camera's handling. It may have an electronic viewfinder, but it is one of the best on the market, so good that you may not even realise that it isn't an optical model. It may not have as many lenses available as Canon and Nikon, but most focal lengths are covered by quality glass, and the in-body stabilisation system works with any lens that you attach to it. The Sony A99 is a tour-de-force of the latest camera tech, and a great camera in its own right.
Digital Camera Review's convinced as well:
By all means, this is a camera that can hold its own with the 5D Mark III and D800. Though its standard autofocus may not be as good as its competitors, where it excels is in tracking focusing. Many photographers still like using the center focusing point and recomposing; and this camera seems to have been designed to do that partially with AF-D.

Beyond the autofocusing, the image quality is really very spectacular with skin tones being some of the best we've seen and white balancing also being very true to life. Part of this has to come from its excellent metering performance; which we rated as perfect when doing an old school Sunny 16 test and when using a handheld light meter.

High ISO results are a mixed bag with there being some loss of detail between 3,200 and 6,400 while beyond 6,400 contained lots of detail but showed unacceptable levels of color noise.

Ergonomically speaking, this is one of the most comfortable DSLRs we've handled for a long period of time. The light weight will mean less trips to the massage therapist after shooting many weddings over and over in a row.

The camera has a lot going for it, but it can come at a cost. For example, the battery life only really lasted us around six hours when out shooting around NYC. Additionally, when shooting video one must switch the camera's AF to manual in order to have manual control over the exposure settings. Plus, the camera can be slow to start up and navigating the menus can be a bit intimidating.

Overall, the A99 is still a very solid choice if you're willing to give it a chance. We highly suggest renting it first though.
The A99 nearly made The Phoblographer switch systems:
We have barely any bad words to say about the Sony A99. The image quality is fantastic, the autofocus is really quite good in most situations, the RAW files are versatile when editing and the ergonomics are really nice. Sure, it will take a little bit of dedication to get the right settings and to wrap your mind around the menus, but once you do you'll fall in love with the camera.

Quite literally, I did fall in love with the A99; and I almsot didn't want to send it back. Instead, I wanted to buy it. But in the end, Canon still has me locked in; and you can blame Sigma's new lenses for that one.

If I had to restart with one new system, it would be Sony's. The A99 is capable of doing some incredible things despite a couple of shortcomings.
"Best digital camera ever used," says Kirk Tuck:
My biggest compliment to the a99? It never let me down. Not on a single frame. Not in any setting. Not even with a brand new flash. It is, hands down, the best digital camera I have ever shot with for work. That said, I think I'll give my back and my arms a rest and spend some quality time with my slinky, little NEX-6. Delightful in so many ways…
Isaac Alonzo lists ten reasons why the A99 is the best full-frame camera for video:
1080p 60 fps (AVCHD or MP4)
Uncompressed 4:2:2 clean output while recording on camera
On-camera steadyshot
Full-time dual autofocus
Focus peaking
Zebra
Built-in stereo with optional professional grade XLR audio input
Quiet multi dial for a silent video adjustments
Tilt 3" LCD
Dual memory card slots for instant backup
DP Review's A99 review doesn't jump to conclusions with its conclusion — Gold Award:
There's a lot to like in the Sony SLT-A99. It's a camera that combines very good image quality with a high degree of camera customization and an ergonomically well-designed control layout. It incorporates all of Sony's recent technology advances in both stills and video performance. A900 users who've patiently waited for an upgrade and are amenable to using an EVF will be hard-pressed to find much fault with the A99, as it represents a significant step forward in just about every respect other than output resolution.

We ourselves, find very little to criticize outside of relatively minor operational concerns and find the A99 well-suited to variety of applications from landscape to studio work. The biggest challenge here for Sony is that its rivals Nikon and Canon have stepped up their already considerable game and now offer lineups of full frame DSLRs targeted specifically at working photojournalists, well-heeled enthusiasts and most recently, budget-conscious shooters. Make no mistake though, Sony does offer features that are entirely unique to the full-frame DSLR market such as in-body stabilization that works with all lenses, an articulated screen and superior live view/video AF performance.

We have to applaud Sony's forward-thinking efforts to leverage all of its existing technology — including its high quality OLED EVF — into its flagship model and not be afraid to look beyond the status quo of what a full frame DSLR-style camera should be. Add impressive dynamic range, top-notch low-light performance and impressive video specifications and the Sony A99 comfortably earns our highest honor, the Gold Award.
Frank Doorhof posts the second part of his review, including some Fujifilm X-E1 impressions. Great NYC stuff. Verdict:
When you want to work in the studio, do model photography, maybe sometimes a wedding or a paid shoot… now get the Sony/DSLR. It's a real all-rounder and it looks much better in the studio for a client than the Fujifilm. The major point for me with the Fujifilm is it's size and the way it looks, it doesn't draw attention to itself and gives you that way more options to make images on the street that with a DSLR are more difficult, however in a studio setup (especially paid jobs) I think the Fujifilm will not set yourself as a pro towards the client.
Chromasia has an initial A99 review with nice sample images. Conclusion:
As I guess you've already worked out, I'm seriously impressed with the SLT-A99. The image quality is superb, it has a great range of features and no real negatives, at least none that have any major impact on my style/type of photography. As such I have no problem recommending this camera.

Would I buy one if Sony hadn't given it to me? Yes, probably, though the effort, time and expense involved in selling my Canon gear to fund it would have been a major pain. And I guess that's the major problem that Sony will face in marketing this camera: anyone who's seriously considering upgrading to a pro-spec body probably already has at least one Nikon or Canon body and a bunch of lenses, so making the switch is a major commitment.

For anyone just starting out though — maybe you have a Canon 600D and kit lens, or the Nikon equivalent — switching to Sony would make a lot more sense. I can't predict the future but, for now, I think Sony pretty much nailed it with the A99.
Enjoy this A99 wedding video by MUG Wedding:
You're into sports photography? Ask Martin Gamper:
I am highly impressed! I knew that it would be better, but not that much!
Oh yezzz, Frank Doorhof likes the A99. Conditionally. From his introduction (great to have in-body IS, so each and every lens is stabilized…):
In the end it all boils down to the big adding and subtracting of features and things you like and don't like.

With the Canon 5D Mark III there is actually nothing I don't like.

With the Sony A99 there are some things I think can be improved but they are minor (except probably the small flash system), however the advantages I just summed up makes me very confident that for me the switch to the A99 for my travel/street photography is a very good move, and now that tethering is solved I feel very confident to also be using the camera on stage and in workshops.
Another of those watch-worthy DigitalRev reviews — oh yes, you gonna hear the word "brilliant":
Blunty asks, "Bloody hell, does the A99 suck?"
Another stunning A99 video by Sony artisan David McLain:
Frank Doorhof has some nice A99 model shoot impressions:
It's no secret by now that I love the A99. It's a great camera, with a cool EVF which opens new options and fits user needs we never knew we needed. The image quality is awesome (also related to the used glass of course). Dynamic range is impressive. Noise levels are more than adequate. Colors are nice.

The combination I'm testing now has a really nice "round" "3D" look to the images.

Price is a bit high but it's a pro camera, however when you're already in the Canon or Nikon system it would make no sense to switch. However when you are already using Sony it's without any doubt an AWESOME update.

The only real dealbreaker for me is the missing tethering solution. If there is a solution that someone knows off (by wire) please let me know because at the moment that's the only thing that for me would be dealbreaker.
Nice preview by PhotographyREVIEW proclaiming EVF has fully arrived:
If you've been an SLR photographer for a long time, you would be right to be suspicious of the A99's electronic viewfinder (EVF). But I'm here to tell you it's ok. In fact, I prefer it to a traditional optical viewfinder. A few years ago I wouldn't have said that but EVFs have improved a lot and the A99's 2.3-million-dot OLED EVF is beautiful. In fact, I bet a lot of photographers wouldn't even realize they were looking through an EVF when they first put the camera up to their eye. And there are a whole bunch of benefits to using a camera with an EVF. The first and most obvious one is you can see all the same stuff in the viewfinder that you would normally see only on the LCD display — that includes the histogram, menus, playback, the effects of adjusted exposure, and white balance. You can even use it to capture video. And that's where I think the EVF is most valuable. With a normal HD DSLR you need to add a bunch of accessories to stabilize the camera. The A99's EVF allows you to just put the camera up to your eye, adding a third point-of-contact that stabilizes the camera for smoother handheld video (…)

I was really impressed with the Sony Alpha A99 DSLR and hated having to give it back. The A99 is a camera I would love to own. It's built very well, with great controls, excellent image quality, and the speed and auto focus are great. I love the transparent mirror design and the electronic viewfinder. In fact, I believe that EVFs will replace optical viewfinders in most cameras in the near future. They offer so many benefits and the A99's EVF is beautiful, with no obvious downsides that I can detect. I absolutely prefer it to an optical viewfinder. Photographers who are looking to invest in a full-frame system should take a very close at the A99. I believe Sony has the most forward-thinking digital SLR design right now and if I was building a new system, that's where I'd put my money. For video, I don't think any other digital SLR can compete with the A99. It's the only HD DSLR with truly useable continuous auto focus in movie mode. Plus, the EVF means you can get good handheld video without spending hundreds or thousands of extra dollars for a viewfinder and stabilizing accessories.
From SLR Lounge's extensive hands-on field review:
I like forward-thinking companies, and in the camera world, Sony is the company that is clearly on the offensive with its high-end camera offerings. The A99 is not only superb, but I can consider it to be avant-garde and full of technology. The sensor itself can go pound-for-pound against Canon's and Nikon's full-frame sensors in regards to dynamic range, color rendition, and resolving power. But what really set the A99 apart are all of the other features like the EVF, focus peaking, 1080p 60p movie mode, Dual Phase-Detect AF, tiltable screen, and so on (…)

I have high hopes with the A99 and after using it for almost a week I can honestly say that despite some of its drawbacks, the Sony A99 is a true winner in my book. For someone like me who is looking to move from a smaller format camera system to a full-frame system, the A99 is a very strong competitor to the other full-frame DSLRs. People may complain that the price is not $2,100 like the Nikon D600 and the Canon 6D, but it shouldn't be. Those are what I consider a basic full-frame camera, stripped of many (but not all) of the advanced features that are found in the A99 and the more expensive Canon and Nikon models.

The A99 deserves 5-stars in my review. Whether you are an enthusiast or a professional photographer, if you are looking for a full-frame camera and system, I highly recommend that you give a serious consideration to the A99.
DP Review uploads real world samples, as do others. Lovely A99 gallery over at Imaging Resources. Test shooter Dave Etchells says that Sony's new 24.3MP, full-frame DSLR is…
… another great camera, very responsive, and has what looks like a very sure-footed AF on it, at least in my limited experience so far. I think it's a camera that could change a lot of pros' minds about Sony. While the NEX E-mount system is somewhat limited in the availability of really good glass, the A-mount system has some really superb optics in the lineup. Combine those with the camera's speed, full-time AF, flexibility and excellent image quality (plus great video chops), and I think it could be a real game changer.
Always nice when Luminous Landscapes tests a camera. From their A99 field report (the OVF vs. EVF debate reignited…):
One day when the last of the optical VF / mirror reflect cameras disappear from the shelves and the buyer has no choice this will have become academic, But in the meantime against price and or segment competitive cameras such as the Nikon D800, D600, and Canon 6D, comparisons are in order unless one is totally committed to ones existing lens collection.

In the end, with the Sony A99 we have a camera that delivers superb image quality in a full frame 24MP format. High ISO noise performance is excellent and operationally there is little that is missing. One can quibble with the design of some interface controls, but then this is true of every camera. The use of an EVF / pellicle mirror notwithstanding, for many photographers this camera will be a dream, and there's hardly a contemporary feature that I can think of that's lacking, except maybe for built-in Wi-Fi (…)

When I first picked up the A99 my very first impression (I'd been using my Nikon D800e the day before) was that there was something wrong. What it turned out to be was the outcome of virtually a lifetime of using full-frame film and digital cameras with their large and bright viewfinders. Holding up the A99 side by side with a camera like the D800, or new Nikon D600 or Canon 6D, brings the matter to light — so to speak. As good as it is, the Sony EVF just can't compete in terms of realistic contrast, brightness and overall clarity to a full frame glass prism viewfinder (…)

Based on my personal experience using the A900 since its introduction four years ago, and now field testing the A99 in the real world, as discussed above I believe that the marketplace success of the Sony A99 will rest on whether advanced photographers considering the purchase of a top-speced, large sized, full frame DSLR will find the use of an EVF preferable to a large DSLR's optical viewing system. Both the also new Canon 6D and Nikon D600 offer that traditional solution while the Sony A99 takes the EVF path. I believe that this issue will weigh more heavily on photographers considering either upgrading or cross-grading than any other of the camera's features, performance, or design aspects, excepting maybe price.

Let me be even more provocative. What if Sony had built the A99 with the same excellent prism and reflex mirror as the previous A900 and A850, but had also included either a built-in or optional accessory EVF? Imagine being able to plug Sony's high resolution NEX EVF into the new multi-interface shoe and be able to go to Live View and select whether to use either the LCD or EVF, or switch at will to a traditional optical finder. Choose the one that appeals most or works most effectively in a given situation.

This isn't so far fetched. The new M Leica will have three seperate finders; its traditional window optical finder, live view on the rear LCD, or an accessory EVF. If Sony had been brave enough to take this approach not only could they have justified the A99's higher price, but also trumped the competition with something truly aggressive and unique in DLSRs.
BBC cameraman and editor Johnnie Behiri works with the Sony Alpha A99:
Behiri's conclusion:
Camera strengths:

Clean HDMI output (on Ninja 2, camera must be set to "HDMI Resolution — Auto" and not 1080p)
Peaking
Green dot at the center of the picture as an additional focus aid tool
Dynamic range looks good (non-scientific sample): vimeo.com/50982162
Front camera wheel which can be assigned to control aperture or audio levels (not when the XLR kit is connected, then use the level wheels on the kit).
Monitor and control audio levels while recording
Good EVF and LCD allowing shooting in minimize configuration
Dual SD card slots

Camera weaknesses:

The A99 produced a decent image although moiré and aliasing is clearly there!
No histogram in video mode
No "zoom function" for accurate focusing
Audio meters have no DB levels and there is no change in meters color when sound is clipped.
No 1080/50p recording is possible to Ninja 2.
Says EOSHD's early verdict:
For the first time ever, the A99 uses two sets of phase detect sensors. Some on the sensor itself and some above the SLT mirror. This should mean much more reliable AF tracking in video mode, and a smoother, more cinematic feel to this tracking (…)

The EVF is the same TruFinder found on the A77 which is superb. The LCD however is new — a similar WhiteMagic panel as found on the Fujifilm X-Pro1 and Sony RX100.

The camera is very light for a full-frame beast coming in at 733g, construction is magnesium alloy.
The Camera Store's Chris Niccolls tests the A99:
Imaging Resource has its preview up. One of the impressions:
Once my eye's in place and the electronic viewfinder is on, the experience is quite good. I love having the fine-resolution levels feature right there in the viewfinder, helping keep the image square with the horizon line. What frustrates me still is the slow switching between the LCD and EVF. The prototype A99 we have is a little slower than I remember the A77 being, which I'll attribute for now to its pre-release status, but it also frustrated me on the A77. As people moved into position on the street, I sometimes found myself staring into a black viewfinder while the action I saw forming up passed right by. I'm pretty sure I'd have to lock it into one or the other mode and just leave it there. As it is, the new rear Status display is quite good, with icons for easy adjustment, and even the levels feature is present, along with a live histogram, exposure info, battery status and other important features.
Charles Michel's hands-on first look (in German):
DP Review has its preview up. Early first take:
It's been almost four years since Sony released its first full-frame DSLR — the A900. It would be hard for anything to exemplify the subsequent developments in camera technology as effectively as its replacement, the A99 does. Whereas the A900 was a defiantly conventional camera that would have been immediately familiar to Konica Minolta film-camera users, the A99 is something of a technological tour-de-force.

The A900 eschewed futuristic fripperies, such as movie shooting and even live view, that became commonplace not long after its launch. The contrast to the all-live-view, movie optimized A99 couldn't be more stark. And yet, despite the A99's radically different approach, it's a camera that A900 users could pick up and immediately start using (and perhaps even enjoying), thanks to its similar button layout.
Promising what they write on Focus Tracking:
Sony has featured focus tracking on its cameras for a couple of generations now, but its usefulness has always been undermined by the amount of time taken to engage it. Up until now, you had to press a button to enter focus tracking mode, then press it again to confirm the subject – not really practical with the sorts of moving subject you might with to track. The A99 makes a huge step forward in this respect, with the option to begin tracking simply by half-pressing the shutter button. Rather than simply selecting the central subject, the camera will give weight to the closest subject.

Sony has traditionally struggled against Canon and Nikon when it comes to matching their sophisticated subject tracking AF systems. Decades of catering to the demands of professional sports photographers have helped the big two to refine their focus systems in a way it's hard for Sony to keep up with. However, while they can build on this history of research, conventional DSLRs are able to acquire relatively little information about the subject they're trying to track. They have to rely on information from their dedicated AF sensor and from any color information they can glean from their metering sensors.

In contrast, its SLT design means A99 is always capturing phase detection data from its AF sensor, and both color and depth information from its newly phase-detection-enabled main sensor. This should give it a much clearer understanding of the subject it's trying to track and where it's moving. Meanwhile, if the on-sensor phase-detection AF lives up to its promise, it should be able to focus with more precision and over a wider area than with its conventional sensor alone. Because it sees the world from the same plane that the final image is being captured on, it should be able to confirm precise focus.
The A99 is surprisingly lightweight and easy to handle for a camera of its size and caliber. While purists may lament the A99's lack of an optical viewfinder, the camera's OLED EVF was plenty sharp and color-accurate to our eyes. It faithfully reproduced the subjects we were shooting throughout our time with the DSLR and we soon forgot we were looking at a screen at all. As for image quality, the camera produces fantastic shots, even in the hands of this (decidedly non-professional photog) editor. Predictably, low light performance was quite good thanks to its 24.3MP sensor with a max native ISO of 25,600 (…)

We had an opportunity to see how the A99 weighed in — having spent many hours behind the lens of a 5D Mark III, it felt surprisingly light, and was a pleasure to hold (even in one hand). The lack of a pentaprism also aided in refining the design, eliminating that raised hump where you'd otherwise find a pop-up flash on lower-end models (the A99 is meant to be used with external strobes, which can be mounted on the Multi Interface Shoe). There are plenty of other connectivity options as well, including a mini USB port, HDMI out, headphone and microphone jacks, power in, a remote control jack, PC Sync socket (for studio strobes) and GPS. Video shooters will surely appreciate the new silent controller just to the left of the lens, and the ability to add an XLR input module to the hot shoe. There are also dual SD card slots (one is Memory Stick compatible), letting you duplicate images, assign video and stills to different cards or copy folders without removing a card. You'll be able to pick up your very own A99 beginning in October for $2,800 — a relative bargain.
Sony shooters have long been asking for a full-frame version of their translucent mirror cameras and now it's here in the form of the A99. The new flagship Alpha camera has a 24.3MP full-frame sensor, which sounds very similar to the one found in the new RX1 super-advanced-compact. It also has the newest version of the BIONZ processing engine and a matching 100-25,600 native ISO range. It does crank up the maximum burst rate, though, to 6 fps at full-res or 10 fps in a lower-resolution tele-zoom mode.

The A99 has gotten a serious upgrade in the AF department, employing a 19-point main system as well as a 102-point focal plane phase detection AF sensor at the focal plane for dual-AF. It offers a few advanced AF features that pros will be keen on, too, like the ability to select the range of the AF, so it won't focus on things that are too close or too far away. It even works continuously during video.
The Phoblographer's first impressions:
Though I couldn't put a card in the camera, the image quality from the prints was really, really nice. The high ISO results also looked very nice.

The new A99 can surely be used with a ton of new accessories for videography and photography.

So far, I honestly think that I'm in love. The D800 didn't really hit home for me and the 5D Mark III was nice but didn't give me everything I really wanted.
From the official Sony Blog:
Gizmodo talks of a "badass DSLR designed like a sports car instead of a monster truck":
Many traditionalists will want to write off the Sony A99 because unlike other full-frame cameras it doesn't have an optical viewfinder, and it uses Sony's proprietary translucent mirror technology instead of standard single-lens-reflex design. Yes, these facts come with potential disadvantages. Some claim translucent mirrors leak light, and you'd be hard-pressed to find a pro who doesn't swear by an optical viewfinder. But at just $2,800 for the body, we're excited to see what Sony's more efficient design can do.
CNET sees a "video-friendly full-frame camera":
I admit, I really didn't like Sony's first full-frame cameras, the DSLR-A900 and it's stripped-down sibling, the DSLR-A850. I used to use them as examples of poor noise reduction and for before-and-after examples for the virtues of third-party raw-processing software. But that was three years ago, and just before Sony had its "aha!" moment and started churning out excellent sensors. Now I'm really looking forward to seeing what the company has wrought with its fixed-mirror, long-overdue replacement for those models, the Alpha SLT-A99.

Priced aggressively against its two major competitors, the A99 doesn't lack for features. Though it doesn't have an antialiasing-filter-free model, it incorporates a new selectively applied low-pass filter as a compromise for increased ability to resolve detail, along with new noise-reduction algorithms that ostensibly reduces fat noise only where you need it for improved results.
+++ You can order the Sony A99 from Amazon, B&H or Adorama. Body-only will be available this October for $2,799.