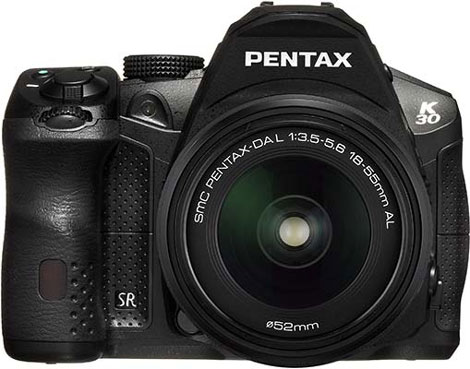 It's a tough, surprising stunner, the weather-sealed Pentax K-30 available in black, blue and white. Packed in a sturdy body this 16.3MP DSLR takes to ice, rain and sand like a duck to water. Whether it's a sandy day at the beach or a trek into wet rain forests, the K-30 is a companion regardless of your location or the elements you face. This mid-level DSLR is the perfect creative companion for active travel and outdoor photographers. I'm honestly quite tempted by the bold design — and by what's going on inside the attractive body. Pentax once again proves: they do things differently — especially design-wise. I have a feeling the K-30 will be the first Pentax in a while that will wiggle its way into the mainstream conciousness. Read our definitive, continuously updated Pentax K-30 Reference File bringing you all the relevant K-30 hands-on reviews and field reports that matter (latest update on top).
+++ Order the Pentax K-30 now from Amazon, B&H or Adorama. +++
Finally, DP Review posts its full K-30 review:
If you are predominantly a stills shooter it is very hard to not recommend the Pentax K-30. It handles well, comes with an intuitive and thought-out user interface, has an excellent feature set for its price point, including weather-sealing and a fast 6 fps continuous shooting mode, and offers excellent image quality across the ISO range which can be further improved by shooting and processing Raw files.

most of the bullet points in the "Cons" list are related to the K-30's video mode and if you are planning to regularly use the K-30 for capturing video the story is a slightly different one. While it records smooth and detailed 1080p video footage with no dedicated movie button, no external microphone socket and no HDMI output the K-30 is not the obvious choice for any photographers who are thinking about venturing into more serious videography. Competitors such as the Canon EOS 650D/Rebel T4i or Sony SLT-A65 offer more compelling products for this type of user.

For anyone else the Pentax K-30 is a very easy recommendation. It's at the top of its class in terms of feature set and high ISO performance, with Raw files that offer more processing flexibility than any other camera in its class. You'll have to decide for yourself if the K-30 is good enough to make you switch from another system but for existing Pentax shooters or new DSLR users focus on stills photography the Pentax K-30 is an excellent choice and easily earns itself our sliver award.
DC Resource says photo quality is certainly of the K-30's strong suits. But:
Camera performance is average in most respects, with a few exceptions (for better and worse). In terms of overall shooting speed, the K-30 is unremarkable. Startup, autofocus, and shot-to-shot speeds are right where you'd expect them to be. As I mentioned, the camera does focus a bit quicker than the competition when using live view. The K-30's burst mode allows you to shoot at nearly six frames/second, but only for JPEGs. The fastest you can shoot RAW images is at just above three frames/second. While I love how the K-30 supports both lithium-ion and AA batteries, battery life with the included D-LI109 rechargeable is the worst in its class.
Amateur Photographer's verdict:
Using the Pentax K-30 is particularly enjoyable. I would not hesitate to take the camera out in adverse weather and most key exposure controls are quick to access and make adjustments. I find the multi-segment metering a little unpredictable, though, and had to be more active making exposure adjustments than I would like. For a camera at this level, the AF system performs well in a number of situations, but the motor in most Pentax lenses is far too noisy.

JPEG compression applies sharpening that is on the aggressive side, but otherwise I am very happy with the images the K-30 produces, particularly in low light situations. Also, the colour rendition is accurate, so images can be used straight out of the camera.

All in all, Pentax has successfully taken much that we loved about the K-5 and put it into the K-30.
Gizmodo says "Tough Body, Sensitive Soul." Should you buy it?
Maybe, especially if you're planning to wander into a hurricane or a blizzard. (That's probably a bad idea, and even if you're going to do it, you should bring something that shoots better video.)

This camera's image quality is impressive. It shot still photos beautifully. To get the most of out of it, you need to spring for the pricier glass — the cheap kit package looks attractive, but it's too limited.

There's one other factor to consider — upcoming changes in the product category. If you're planning a purchase in this class of camera, wait on the reviews of the new Canon 650D, and the anticipated update to the two-year-old Nikon D7000, before buying anything. Once they arrive, it will be much clearer idea which entry-level DSLR is the best product — and which is the best deal.
USA Today's verdict:
Be wary of the standard 18-55mm kit configuration: All the kits we've seen online for the K-30 include a non-weatherproof 18-55mm kit lens. If your lens isn't weatherproof, your camera isn't weatherproof. Pentax makes an 18-55mm weather-sealed lens (distinguished by a 'WR' mark on the front of the lens and a green ring around the barrel), and we can't think of a reason (besides cost) for it not to be included in this bundle when it's advertised as "weather-sealed."

Video is also a weak point. The K-30 can capture full 1080/30p video, but with no mic port, no HDMI output, and only a monaural mic built into the camera, there's very little to justify using the K-30 as a proper video camera. Think casual clips only.

We'd recommend the K-30 to anyone looking for a sub-$1000 DSLR to take to an environment where dust or moisture are a constant concern. Even if that's not an issue, the K-30 still offers performance on par with its peers from Canon and Nikon at this price point. It's not the best option for absolute beginners and it's certainly not for video shooters, but the K-30 — when paired with an appropriate lens — can go places other DSLRs at this price simply cannot.
Verdict of Digital Camera Info's extensive review:
One group that is going to be sorely disappointed with the K-30, however, is video shooters. The K-30 can capture full 1080/30p HD video, but it lacks anything resembling high-end video capability. With no mic port, no HDMI output and only a monaural mic built into the camera, there's little to justify using the K-30 to capture video except in extreme circumstances (…)

We'd recommend the K-30 to anyone looking for a sub-$1000 model to take to an environment where dust or moisture are a constant concern. Even if that's not an issue, the K-30 still handles great and offers performance similar to its peers from Canon and Nikon at this price point. It's not for absolute beginners and it's certainly not for video shooters, but the K-30 — when paired with an appropriate lens — can go places other DSLRs at this price simply cannot.
Pocket-lint says if moving images a.k.a. video are you thing, then best look elsewhere. For stills from this weather-resistant warrior? 10 out of 10:
The Pentax K-30 shows off what a DSLR can do without blowing the budget. But that doesn't mean this DSLR scrimps on its features. Far from it, it blows most of the competition out of the water.

Not that most of its peers can survive a blast of the wet stuff. The weather-sealed body is a great feature to have, and something that would usually only be found in a pricier camera, but that doesn't detract from the K-30's ability to produce great images too.

Add a 100 per cent optical viewfinder, 6 fps burst mode matched with a decent buffer and capable continuous autofocus and there's not much missing.

Of all features it's the autofocus system that's the only slight letdown. It's good, but it's not as fast, particularly in dim light, compared to some of the (slightly pricier) competition. If that one thing was improved it's hard to see how this wouldn't be a 10/10 star product. It's great stuff.
DigitalVersus isn't too excited. Live view is too slow, shutter release too noisy and video mode too limited. On the other hand they like the big viewfinder, good image quality (paired with good lenses) and mechanical image stabilization:
The Pentax K-30 is basically a pared-down version of the K-5 SLR, with which it shares plenty of basic specs (except its shutter, which is much noisier). Picture quality and general handling are very good, and the K-30 offers plenty of exclusive extras for a camera at this price point. However, the body isn't as pleasant to handle as some competitor models and the video mode really needs updating.
Steve's Digicams thinks this DSLR will likely thrill you:
Perhaps the most heavily promoted feature of this camera is one we are not exactly encouraged to test — its weatherproof design. The reinforced polycarbonate body over stainless steel chassis is rated to operate at temperatures as cold as 14°F, and as hot as 104°F. If you're out to capture adventures in the rugged outdoors, this design is a definite plus, especially since it offers weatherproof specifications; so getting caught in a rain or snow storm is no worry; as long as you are also using a weatherproof rated lens. And, if you're doing that, you're likely to be interested in the optional GPS unit, whose data is available in the camera via detailed information display, along with photographer name and copyright information. You can also get a wireless remote, though there's one odd caveat: autofocus does not work by default with the wireless remote — you have to change the setting.
What Digital Camera's review is in. Verdict:
For a mid-price DSLR, the K-30 certainly offers a lot. The sensor has been adopted from previous models, but this is a wise move by Pentax as the 16.3MP CMOS chip certainly delivers impressive results.

The AF system is starting to show its age a little. Though it's fast at locking onto subjects when you're composing through the viewfinder, the contrast detect system proved to be a bit sluggish in Live View mode. You do end up having to wait a few seconds at times before it acquires correct focus and this is particularly irritating when we know there are much faster contrast detect AF systems currently being offered by other manufacturers. Add to this the lack of continuous focusing in video mode and there are areas for improvement.

Where the K-30 really excels is in its build and handling. The rugged design is backed up by a multitude of weather seals to keep it protected. Offering such a high-end feature within a mid-price model is very commendable. We adore the feel of the K30 in the hand too. It feels solid and should survive a knock here and there. 

Add to this the 6 fps burst rate and K-30 is a very well equipped DSLR. It does stand out in the mid-range market and though it's currently expensive we expect its price to fall over coming months. For anyone looking to advance from a compact, the K30 makes a sensible choice. Best of all it will produce great images and give you all the DSLR control you need to progress your ability to the next level.
TechRadar's verdict on the "81 seals to keep water and dust at bay" is in:
It may not be perfect, but there's plenty to like about the Pentax K-30. For a start its 16MP sensor is capable of recording an impressive level of detail, especially if you record RAW files — which helpfully are in DNG format. There's also lots of room to experiment and try different options to create more interesting images.

Those on the move and without access to mains electricity to charge the supplied Li-ion battery will also appreciate the dual-form battery compartment that can accommodate four AA batteries.

We liked

The durable body is comfortable to hold and is capable of surviving exposure to heavy rain. Of course this would be pointless if the image quality wasn't up to standard, but the K-30 produces superb images with lots of detail and good colours.

We disliked

In less than perfect light with the 18-55mm kit lens mounted the autofocus system often needs to make several attempts at getting the subject sharp. It's also annoying having to switch off raw file recording to use the digital filter effects.

Final Verdict

The fact that the body is weather-proofed is a huge bonus as one of the main reasons why cameras area sent for repair is water damage. Of course to get the full benefit of the K-30's weatherproofing it needs to be matched with one of Pentax's WR (Weather Resistant) lenses.

Given the "outdoors" credentials of the K-30 the DA 18-135mm F3.5-5.6 ED AL [IF] DC WR is a better pairing than the 18-55mm lens, giving greater flexibility, reducing the need to change lens in hostile environments and offering much better autofocus performance. If you're buying a kit rather than the camera body only, we'd recommend the 18-135mm version, but at £250 ($300) more that means a serious hike in the price.

While the self-levelling sensor is a great idea (and one we have seen before in Pentax SLRs), it really needs to work beyond 1degree to be useful. As it stands it's better to use the electronic level in most situations.

The digital filters are lots of fun, but when you want to get serious about image quality the results from the RAW files taken at ISO 100 and 200 are hard to beat.
The Verge says a good camera doesn't have to be fragile, but…:
The K-30 is basically the Pentax K-01 in a larger, more rugged body (I also think it's much better looking, but that's up to you). It has the same positives — fast performance, solid manual control, excellent image quality — but also the same negatives, like weak autofocus, unimpressive video performance, and some clumsy design decisions. I'd recommend the K-30 over the K-01 any day: it's a far more ergonomic camera, and the addition of an optical viewfinder makes it far more useful for still photography.

The competition is fierce, though. For about the same $899.99 you'll spend on the K-30, you could buy a Canon Rebel T4i with its vastly improved focusing system, articulating display and support for Canon's wide range of lenses. You could also buy a Nikon D5100, another stellar entry-level DSLR, for even less. There's a definite appeal to the ruggedization, and there's nothing about the K-30 that would make me tell you to stay away from buying it, but unless you plan to get caught in the rain a lot there are better ways to spend your $900.
The Camera Store says the Pentax K-30 has the best specs of any entry-level DSLR with a weather-sealed body, two control dials, a 100% viewfinder and great image quality. See for yourself:
DP Review posts a K-30 samples gallery — including RAW samples:
Most of the images have been taken at the camera's default settings, but since there is RAW support available for the K-30, we have also processed four images in Adobe Camera Raw 7.1 — for those we have added an "acr" suffix to the file name.
Pentax Forums' review is in, saying it has been a while since they've seen such a well-rounded camera at such an attractive price tag:
The camera is an able, agile performer. The 16MP Sony sensor is an APS-C monster that's been refined over the past couple years into a nigh-unbeatable powerhouse. Ergonomically it's a little marvel, losing out by just a hair's breadth to the Pentax K-5 for our all-time favorite honors. It's also inherited a great deal from the quirky Pentax K-01, including the PRIME M processor, improved video mode, and some very welcome UI enhancements. The brilliant INFO menu, subtly tweaked from its implementation on the K-5, kept us from missing the top LCD in all but a few circumstances.

Autofocus performance was extremely impressive to us. While it fares little better than the K-5 in extreme lighting conditions, in everyday use the new SAFOX IXi+ system is a knockout. The focusing action has a real confidence and decisiveness in use that inspires a similar feeling in the user, and the real world results can't be argued with (…)

In the end, the only real question left in our mind about the K-30 is: do we dutifully send our review copy back when the loan period is over, or do we abduct it and run away to Mexico to live happily ever after?
What Digital Camera gets a first look, they especially like the handling:
Handling-wise, the K-30 feels superb. The grip is reasonably large meaning you can wrap your hand round it and get a good, strong grasp. The thumb rest at the rear of the camera is superbly profiled and contributes to a fantastic handling impression. The menu system has also seen some changes and it appears brighter and more colourful than before.
ePHOTOzine has test images up, as a prelude to the full review.
The Phoblographer has a, well, sexy K-30 update. Conclusion:
For the audience that this camera is targeted towards, Pentax has given them quite a bit of power. Due to the ergonomics and including two dials, the user can grow much more with this camera. When you reach a certain point, you often don't want to have to press the exposure button in order to switch the aperture and shutter speed. To boot, this camera has a great sensor, is weather sealed, and still fairly light though beefy feeling at the same time.

My only problem was the autofocus system, which I truthfully consider to be a tad bit worse than the Canon 5D Mark II's. I know that Pentax fans will try to rip us apart for that, but our tests showed otherwise.

If you can get over the autofocus system, I highly encourage you to spring for the Pentax K-30 and enjoy their line of limited prime lenses and their constant aperture zooms.
Pocket-lint has a hands-on. And they like what they play with:
While Pentax won't be the first choice for many when it comes to their next or first DSLR, the combination of a great sensor — it's the same sensor as the K-5, which is probably the best use of that 16MP sensor in any camera — and the weatherproofing means this is one to consider seriously, especially if you are an outward-bound type of person.
PDN's Pentax K-30 take:
It's great to see Pentax, which has become sort of an underdog rival to Canon's and Nikon's DSLRs, continue to produce compelling, well-made cameras that take great pictures. While the Pentax K-30 is designed more for photo enthusiasts and prosumers than for professional photographers, it offers a pro-level, weather-sealed build and pro-level features at a fraction of the price of true professional cameras. While we experienced a few troubling performance issue during our testing, most of those should now be fixed with a recent firmware update. Otherwise, the rough and rugged Pentax K-30 is a great, small DSLR option for jobs where you might get splashed, snowed on or covered in dust. If you have Pentax lenses already or plan to buy some soon, the K-30 is a great way to get acquainted with them even when shooting in stormy conditions.
DigitalCameraReview says:
I really loved the image quality of the Pentax K-01 but wasn't crazy about the large camera body and design. Fortunately, the K-30 uses the same image processor (with maybe a few firmware tweaks since it's a newer camera) so image quality should be equally as impressive if not better. It's too early to draw any conclusions but, so far, the K-30 — which is comfortable to hold and lighter than expected, even with a zoom lens — holds a lot of promise.
The Verge has been playing around with the K-30. A first glance lists more cons than pros:
Unfortunately, that all adds up for some ergonomics that aren't the best around. Don't get us wrong, Pentax has nailed the grip itself, which is quite comfortable. There are a few problems, however: the body itself is very angular, and the glossy finish on the white a blue models make the camera feel inexpensive (we'd suggest going for the more boring black option). Additionally, the control dials are also far too small for comfortable use, and the resistance required to begin turning them means that you'll likely spin them a bit farther than you wanted.

There are plenty of controls — just as you'd expect on a DSLR — so changing aperture, shutter speed, or ISO is fairly easy. The downside is that what controls are limited to the on-screen interface are difficult to access in their somewhat complicated menus. Additionally, on its default settings the display doesn't turn off until you depress the shutter release half-way, meaning you'll be distracted by its light when peering through the viewfinder.
From Engadget's hands-on review with sample photos and video:
High ISO performance didn't blow us away with noise reduction deactivated — noise was visible at a 25% view at ISO 12,800 and a 12.5% view at the ISO 25,600 extended setting, but the sensor-shift stabilization mode enabled us to capture sharp handheld shots at 1/40 second, so it's not terribly difficult to avoid venturing into that high-sensitivity zone. Pentax also added a unique Astrotracer mode, which moves the sensor precisely for long night sky exposures, using an optional GPS module to provide location and direction information.
More samples by The Phoblographer. And watch them run a faucet over the Pentax.
Even ThatNikonGuy likes the Pentax — comparing it to the latest Canon Rebel 650D/T4i:
Photography Talk lists nine reasons why the K-30 might be your next digital camera. Read the whole thing. Reason 1:
Pentax may not be one of the first names that come to mind for a moderate mid-level DSLR, but the company's newest camera, the Pentax K-30, appears to earn just consideration. It's a choice that compares favorably to the Nikon D90, Canon 60D and Rebel T3i and Sony A57 and A65 DSLRs. Available for purchase during late June 2012, the K-30 can be interpreted as an attempt by Ricoh, the new owner of Pentax, to take advantage of the reputation of the Pentax K-5 digital camera. Some consider it the best APS-C DSLR for its approximately $1,100 (body only) price tag.
From DP Review's hands-on preview:
Pentax has a long tradition of making very photographer-focused DSLRs, often eschewing the latest fashions to concentrate on providing cameras with well-sorted ergonomics and a focus on core photographic features such as good viewfinders. This trend appeared to reach its peak with the K-5 — arguably the best APS-C DSLR currently on the market. With its latest offering, the Pentax K-30, it looks like the company, now owned by Ricoh, is planning to bring this capability to a wider audience.

The first thing you're likely to notice is its rather aggressive, angular styling but what's really interesting is what's going on inside. The K-30 is built around the updated 16MP CMOS sensor and processor used in the K-01 — one of the only cameras we've seen to exceed the K-5's low light performance. And that's promising, even before you venture further into the specifications.

Despite playing second-fiddle to the K-5, the K-30 borrows a great many of its flourishes. It's weather sealed. It features the same 0.92x magnification viewfinder with 100% coverage — meaning you can compose your image knowing that you'll get the framing you thought you would. It also sports twin control dials and a not-disimilar degree of external controls. With a starting price of $899 with the 18-55mm kit zoom, we can't imagine Pentax expects to sell many K-5s once the K-30 reaches shop shelves.
LetsGoDigital list all the essentials:
The Pentax K30 features the new state-of-the-art SAFOX IXi+ AF sensor module, which assures responsive, high-precision autofocus operation by incorporating a diffraction lens to minimize chromatic aberration in accordance to the characteristics of each individual lens. A dedicated sensor also factors the light source into its calculations at the time of shooting. Additionally, 9 of its 11 focus points have cross-type sensors to capture subjects in sharp focus, while a spotbeam assists the AF system during low light situations. When photographing sport events, the Pentax K30 high-speed burst shooting function comes in handy, allowing users to capture active, fast moving subjects in a series of pictures at a maximum speed of 6 fps in JPEG format.
Pocket-lint says "81 seals makes this one tough cam":
The Pentax K-30 will offer photographers a compact and lightweight DSLR with the benefit of weather proofing, as seen on the existing K-5 and K-7 models. Featuring 81 seals, the K-30 promises to be dust and cold proof, happy down to temperatures of -10C.

It features a 16-megapixel CMOS sensor (23.7×15.7mm, so APS-C format) which features Pentax's sensor shift type Shake Reduction.

Not only does this give you assistance in lower light or at long zooms, but the SR mechanism also allows for features such as horizon correction and an Astrotracer mode to aid you when shooting stars with the accessory O-GPS1 unit.
From Imaging Resource's detailed hands-on preview:
Before I started looking at pictures of the Pentax K-30, I didn't notice its more aggressive graphical treatment, particularly in the front. I only noticed its good, rubbery front grip, its nicely ramped thumbgrip, and its resemblance to the K5 in terms of feel and operation. The K-5, of course, is metal, and the Pentax K-30 is polycarbonate. Controls are also fewer on the K30, and there's no Status LCD on the top, so by design its major competition is the Canon Rebel and Nikon D3200 (…)

Like all higher-end Pentax cameras, I found the K-30 an easy, yet capable camera to use. Not enough of the hardware is final for full commentary, unfortunately, so I can't go into much more detail. We also can't post photos from the camera we have, though I'd have no problem doing so, as they look just fine to me.

As for an SLR with rugged features, I've been waiting for this for some time. Long ago, I lamented the lack of water-resistant electronic gear, when after all, even our relatively low-tech automobiles have long been water resistant, able to work in the driving rain. That's what you'll find with the Pentax K-30 — provided you buy a water-resistant (WR) lens or two along with it.

I love the idea of a backpacking or watersports camera with a little extra something for rugged conditions. The Pentax K-30 is not dunkable, mind you, but is designed for a splash in the summer or snow in the winter.

It's important to note that there are some limitations to the K-30's capabilities when compared to the K-5, including a slower shutter speed (1/6,000 max. vs. 1/8,000 max.) and a lower maximum ISO (25,600 vs. 51,200). It's also missing an external stereo microphone jack and an X-Sync port, among other items. However, the Pentax K-30 has a decidedly photographer-centric Mode dial and the dual exposure control dials front and back, which is all most will need. We're told to expect better image quality than the K-5, so we're pretty excited to get a shootable Pentax K-30 into the lab for testing.
Engadget's short take:
Welcome the K-30, the company's spiritual successor to the long-serving K-r. The camera makes its biggest numerical jump in sensor size, from 12.4 megapixels to 16, but you're primarily shelling out for a much tougher body that's both resistant to rain as well as to dust and temperature extremes; one of the cheapest cameras to do so, if you go by Pentax's word. We're slightly down on the light sensitivity being unchanged from three years ago at ISO 100 to 25,600, though you can now shoot video at a much higher 1080p at 30 frames per second — burst speeds still top out at a healthy 6 fps.
The official Pentax website gives you all the basics. Highlights:
Weather Sealing: Full weather sealing throughout the entire body ensures worry-free use in any weather condition
CMOS Image Sensor: A high performance 16MP APS-C CMOS image sensor strikes the perfect balance between resolution and image quality
PRIME M Image Processing Engine: Optimized for HD video capture, smooth live view, low chromatic noise, and low energy consumption
Pentaprism Viewfinder: Low profile glass pentaprism viewfinder, with interchangeable focusing screens, achieves a 100% optical field of view for framing accuracy in a highly compact form factor
Advanced SAFOX IXi+ Autofocus Engine: Advanced SAFOX IXi+ autofocus engine, with AF assist lamp and light source detection sensor, features improved optical components, including a diffraction lens, for responsive autofocus in any lighting
Sensor-Shift Shake and Dust Reduction: Pentax sensor-shift Shake and Dust Reduction technology ensures sharp, image stabilized, auto-leveled, and dust-free imaging with any mounted lens
+++ Order the Pentax K-30 now from Amazon, B&H or Adorama. +++