By SARAH OXLEY
If you're a photographer, whether an up and coming photographer looking for a way in the industry, a professional photographer with an impressive portfolio or an amateur photographing for fun, self-publishing your photos is an important prospect to consider. The benefits of self-publishing are different for each person, and I'd like to take a closer look at each group mentioned.
Up and Coming Photographer
Getting your foot in the door of any creative industry is very difficult, but the competition for photographers is very intense. Marketing yourself and your work is very important, and sometimes waiting for the opportunity to prove yourself can take a long time. An online presence through a blog, for instance, is a good and free way to build your brand and show off your skill.
Digital is the way of the future, but it is becoming a very crowded platform. Having an online presence, no matter how influential, is no longer enough. To be taken seriously as a photographer, a portfolio is a must. The beauty of a portfolio is that you can show your best images, as well as your ability to tell a story through pictures.
Dan Milnor, professional photographer, says that a self-published book is more than a collection of photos; it is an entity in itself, which is all about the story told by the photos. Being a storyteller as a photographer is the way of the future, and a skill that needs to be marketed just like your photographical skills.
Linking your online presence with your offline print work ensures that you are seen as a versatile photographer with initiative, and helps you to show a wider range of your brand.
Professional Photographer
As a professional photographer you are bound to have your work published both in print and online publications. So, self-publishing is unlikely something that immediately springs to mind. Yet, it is nevertheless a great opportunity to further establish yourself in the industry.
Photographer Milnor, who is a specialist for classic black-and-white documentary work, says that the traditional photobook is being reinvented. Instead of just a portfolio of the best images, self-publishing a photobook gives you the chance to tell a completely unique and never before seen story. Some online publishers guarantee full creative control, so that you can make sure that the photos shown are exactly how you want them to be.
If you're famous for a magazine shoot, why not publish a book of the photos taken in-between the official ones. A behind the scenes book would be incredibly popular.
Or if you wish to change directions in your career and change from a fashion photographer to a wildlife or landscape one, then self-publishing your work of this genre can make the switch between niches easier.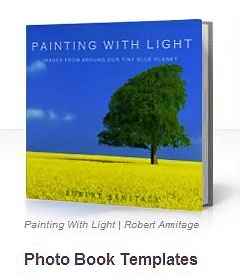 Amateur Photographer
If you enjoy photography, but want to keep it purely as a hobby, then you can still benefit from self-publishing. As prices for self-publishing can start from as little as £1.75 (if you find an online publisher), you don't need to worry about huge costs.
You can put your favourite pictures together in a definitive collection for you to admire and enjoy. You can also use your hobby to create great and thoughtful gifts for friends and family. The latest family holiday put together in a travel photobook is an ideal birthday or Christmas present for the family.
Had a school reunion and captured some of the best bits? Why not create a reunion photobook with images of friends from school days side by side with images from the reunion? This would be an ideal gift for an old school friend, and a very special keepsake for yourself.
Is It for You?
There are many possibilities in self-publishing. Concerns of the days of finding a willing publisher, having to carry the burden of the costs and making several hundreds of copies of the book to get it published in the first place, are long gone.
People who are new to self-publishing and Adobe software may be concerned about the difficulty involved in making your own photobook. At Blurb you can choose between following a simple template (great for amateurs), customizing the design to meet your requirements (a popular choice for up and coming photographers) and having full creative control (this one is most suitable for professional photographers).
To prove to you that it really is that easy and to also show what kind of templates you can expect, here's Joe from Blurb to walk you through the Blurb Book Creator. Enjoy!
This article is written by Sarah Oxley on behalf of Blurb, providers of photobooks, travel books and self-publishing services.

Blurb is a company and community who champion the joy of books and enjoy sharing their passion for books.