Digital photography gives birth to all sorts of new photography styles. Everyone's a photographer these days as a multitude of devices and applications leads to an ever growing pool of photographic output. Is there anything left on earth that's not yet photographed in a myriad of ways? But a photo is not just a photo anymore. Due to ever increasing processing possibilities a photo becomes a personal statement. People are looking for more and more and newer ways to create something photographic that differentiates their work and themselves from the rest. That reinvents even the good old landscape photography. Ansel who?
It used to be that landscape photography was about capturing the untouched and sublime, free of any man-made obstructions. Who wouldn't scold at a photo with any sign of civilization or person in a landscape photograph — unless strategically placed. Landscape displaying anything remotely human wasn't really a landscape.
Today, however, we have become so closely entangled with the lands that we claim to possess that we almost can't remove ourselves from the frame. Happens to me all the time when trying to shoot a pristine forest, a lonely beach or a mountain. Somewhere there always some "human disturbance," and if it's only a power pole, piece of plastic or the contrails of a plane in the sky. What to do? Photoshop it off?
Make that power pole the front and center.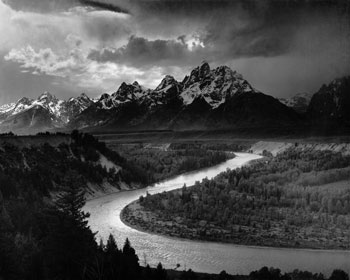 Modern landscape photography is the photographer's attempt to relate to the landscape without attempting to remove man-made visual disturbance from the frame.
Today's landscapes consider the built landscape as integrated into the natural landscape. The whole point of landscape was traditionally to show the dichotomy between man and nature. That has changed. Today we don't even know what nature is anymore. And there goes the old concept of landscape photography.
The human being and the man-made have inevitably become the centerpiece of today's landscape photography.
Leading to the second part of this article, the steady rise of fine art photography. According to ArtTactic confidence in the modern and contemporary photography market is up this year, with the biggest increase in confidence at the top end of the market, with photos priced over $100,000.
As top modern photographer ArtTactic lists William Eggleston, Josef Sudek, Man Ray, Edward Weston, Irvin Penn, Richard Avedon, Garry Winogrand, Robert Mapplethorpe, Diane Arbus and Manuel Álvarez Bravo.
The top 10 contemporary photographers are Stephen Shore, Edward Burtynsky, Peter Beard, Sally Mann, Sebastião Salgado, Philip-Lorca diCorcia, Simon Norfolk, Martin Parr, Nobuyoshi Araki and Robert Polidori.
Not a single traditional landscape photographer among them. Are the days of Ansel Adams irrevocably gone?
You may or may not be familiar with all of these famous photographers mentioned above, but do an online search and look up their work. Looks like in modern and contemporary photography the classic landscape photography that was all about immortalizing the pristine — or at least about surveying unchartered territory — enjoys no longer much relevance any.
There will always be classic landscape photographers, even today. But their names aren't the hot ones that consistently do well at photography auctions and in art circles.
Paradoxically, the most expensive photography ever sold was a landscape photograph: a modern landscape photograph. Andreas Gursky's Rhein II fetched $4.3 million at Christie's in November 2011.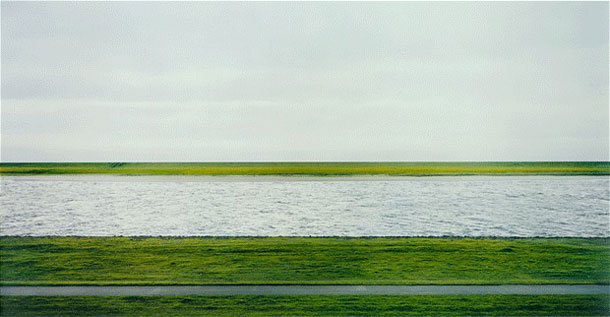 Gurky's capture is the perfection of modern-day romantic landscape: it's man's relationship with nature.
For all its apparent simplicity, the photograph is a statement of dedication to its genre and also craft. Even the clouds are linear.
Bottom line: The way that photography and its value are perceived sees more and more an overlap between modern and contemporary photography. Even big museums are giving much more attention to fine art photography, which is certainly increasing its exposure.
But you'd be searching in vain for what was once considered to be the peak and culmination of fine art photography, the pure, untouched, pristine landscape excluding the human being.
Modern and contemporary — in fine art — have become synonymous for mankind. But rest assured, as photography is a language that everyone can understand, the day will come when people are longing again for the pure, untouched and pristine.
The old landscape as a parable for purity and innocence. These days, however, there doesn't seem to be a market for it.