It's fairly easy to become fascinated with Brad Elterman's classic rock imagery from the 70s and 80s. Brad has seen and shot them all — The Beatles, Blondie, Michael Jackson, David Bowie, you name them. And he's not presenting the perfect depiction of idols. His unusual perspective comes from the fact that he was a young fan with a passion, not a professional photographer with an all-access pass. THEME talked to Elterman and wanted to know what he thinks about photography today.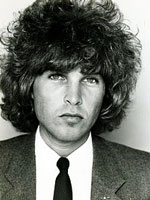 If you love good music, good parties and good photography, then Brad Elterman's your man. His life and career make me even slightly jealous. Elterman's photos provide a rare, often raunchy glimpse into a rock and roll history where it seems Elterman was always at the right place at the right time, camera ready.
His photography is up close and personal. No dreamy bokeh, no studio portraits, no telephoto lenses, just straight, raw, contrasty photos carrying you directly into the feel and pulse of rock and roll. That's right, doesn't matter if the photos aren't perfectly focused or if the flash's too shrill. Good photography captures that exact moment in time without caring too much about technical perfection.
How it all began? As a young photographer coming of age in Los Angeles, Elterman borrowed his parents' car to drive from the San Fernando Valley over the hill into Hollywood where he witnessed 1970s rock history in the making.
"My timing was perfect," he recalls. "The apex was between 1975 and 1980 and there I was, a teenager, hanging out with my pals the Ramones, Sex Pistols, Debbie Harry and Joan Jett on the Sunset Strip. Luckily, I had a camera hanging around my neck."
Luckily for us, Elterman captured many rare, candid moments, like a picture of John Lennon and Yoko Ono chatting with Ringo Starr outside the Rainbow Bar and Grill, not long before Lennon's death in 1980.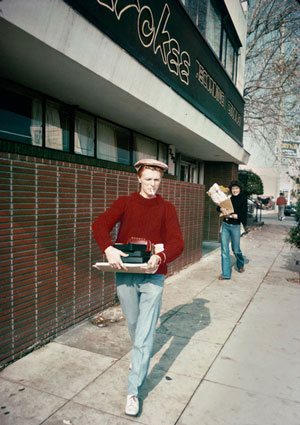 Then there's the photo with that beautiful Kodachrome look of David Bowie outside the Cherokee Recording Studio where a teenage Elterman camped out at 6 a.m. one morning in 1975, just to get a picture of the rock icon at work.
Elterman's first requests to take photos of Bowie while he was in L.A. were turned down by the publicist. He didn't give up and got the shot: "It's that raw and un-posed photo of Bowie that is coveted by collectors and curators today, not a photo of him performing onstage," says Elterman.
He was not always a paparazzo. He shot for all of the record companies and rock magazines. He was friends with many of the bands and they all hung out.
Brad Elterman's career started with a borrowed camera at the age of 16. His first photo, of Bob Dylan performing onstage, was published in 1974.
That lead to endless nights of covering the rock scene in Hollywood encompassing pop, punk and rock bands including Joan Jett and The Runaways, Rod Stewart, David Bowie, the Sex Pistols, Kiss, Queen, Blondie, the Ramones, the Bay City Rollers, Abba, Boney M, Kenny Rogers, The Who, Leif Garrett, Michael Jackson, etc.
"It was my education in life," says Elterman who left school to travel with bands and visit European magazine editors at the age of 19. "I had a front row seat in life which took me everywhere from Munich to Tokyo to Rio." Elterman toured Japan with teen idol Leif Garret, traveled to South America with German pop stars Boney M, and did tour dates with The Eagles and Rod Stewart, just to name a few.
In 2011 Elterman released the coffee table book "Like It Was Yesterday." Today he's a prolific blogger on his tumblr site bradelterman.tumblr.com posting his iconic seventies photographs and his new modern day pop culture imagery.
Even though, he hasn't taken pictures in like two decades as he was too busy running his photo agencies.
Here's what Elterman tells THEME:
Nice talking to you Brad. You miss the old days?

Sure every 50 year old does, but I am not the type of guy who lives in the past. Today is so exciting to me and its all due to the internet, today's cool players in pop culture.

What was your gear back then?

A Canon F1 and then an AE-1. When I was in Tokyo back in 1979 with Leif Garrett I picked up the very first Canon point-and-shoot camera. It was called the Canon Sure Shot and when I got back to L.A. I took a photo of Avedon and he asked me about my new camera! I then moved to Nikon and had a FE and FE2 which I adored. I think that I preferred them to the Canons.

How did photography change since?

The style seems to have come full circe. I was doing flash on camera photography back then and that style is so in vogue today. The over-produced shit is done for now. The business of photography has changed too. Back in the 70s and 80s I had easy access to the icons of pop culture and there were all these magazines who I had connections with to sell my photos. I went to Europe and Japan when I was still teenage and met all the editors and sort of become their correspondent. I learned early on about photo syndication which meant I made a dozen prints of each photo.

One was for each magazine is several countries who I supplied my work. My parents could not believe all the checks that I was receiving at home and they were from all around the world. I can not count the number of times that I would receive a phone call from Music Life in Tokyo on the family home phone. It was wild. I made a really good living for a kid, drive an old Mercedes and lived and dressed well. I moved to my own apartment on the Sunset Strip when I was 19. That's when all the fun really started.

Today, it's all changed for me and for young photographers just starting out. All of the magazines I dealt with are gone with the exception of Bravo magazine in Germany. There are very few places to sell your photos since everything is now online and no one wants to write a check. The access is tight due to controlling management. I keep telling young photographers today that if you want to make it you, the photographer needs to be the brand. Cobrasnake is the perfect example. I love him and he is one smart kid.

Why didn't you shoot much during the 25 years?

The cool bands that I liked were not in vogue with the magazines and it was all about heavy metal and I hated metal. Disco was just ending and that was fun, but photos of disco stars were not easy to sell, except for The Village People. I moved on to shoot teen stars and TV stars like David Cassidy and the cast of Eight Is Enough. That sold well, but it was sort of boring. Then eventually the dreaded publicist came on the scene and they got wind that the photographers were actually making a nice living shooting their clients and they resented it big time. It all became a bunch of grief.

How different are analog and digital photography?

Film looks like film and digital looks like digital. I am doing photo sessions with film today. The photos really pop on the Internet. I shoot with a point-and-shoot Contax T3 and a Contax G2.

What shooting session you remember best?

My photo sessions with Joan Jett were the most memorable. We had several and we were both so young. I was really shy and I found Joan to be so cool and calming. I am not surprised that she became a rock and roll icon.

Today, what does photography mean to you?

Just capturing a moment. Plain and simple.

And the 70s and 80s ain't over?

It's the summer of 2012 and the endless party continues. I count my lucky stars every single day!
+++ BTW, if you happen to be in L.A., Factory 77 exhibits Elterman's work until September 10, 2012. 25 years later, Elterman felt compelled to reopen "Pandora's Box" to unleash some of yet unseen photos on the public.