Pultizer Prize winner Liu Heung-Shing tells the Wall Street Journal how a fellow Associated Press photographer captured the iconic "tank man" image during the Tiananmen Square crackdown in June 1989 — and how the AP snuck it past plainclothes police who were on the lookout for protestors and the media.
When the Chinese military moved into Beijing's Tiananmen Square on June 5, 1989, to forcibly remove pro-democracy protestors, an anonymous man famously decided to place himself in front of the long column of Chinese tanks that were rumbling into the area. Photos and videos of the incident were immediately published and broadcast around the world. AP photographer Jeff Widener's tank man photo is widely considered to be one of the most iconic photos of the 20th century:
An interesting fact was that the photographers and agency needed to protect the images from being confiscated by the government. After learning about the incident and the photographs, Liu instructed Widener to hide the film in his hotel room.
Widener then went down to the hotel lobby, found "a blonde American guy" with a ponytail and backpack, and paid the man to sneak the film past plainclothes police and to the AP.
Next day Widener's image was featured on newspaper front pages around the world.
Lest we forget: Being a photographer back then was a completely different task than today with all the facilitations digital imaging and wireless technology offer. One of the biggest worries was: how to develop film? And then scan the negatives? And then transmit them to an editorial office that might be on a different continent?
Transmitting a single image was a very complex and expensive undertaking. Today? We'd see the legendary "tank man" even in 3D. Which is why photography has lost some of its magic. We're flooded with great imagery and do not see the wood for the trees anymore.
We've become witnesses to everything and assume to know everything. The tank man today would be a high resolution, perfectly focused image without the 1989 washed out film look and blur. In fact: that epic 1989 version would face the delete button. Now guess which version I prefer.
BTW, here's a wider shot of the whole scene that day on June 4, 1989, on Tiananmen Square. Look at that white balance! Detail! Those horrible greens!…
Great iconic shot. No need for more detail and spot-on colors to make the image work: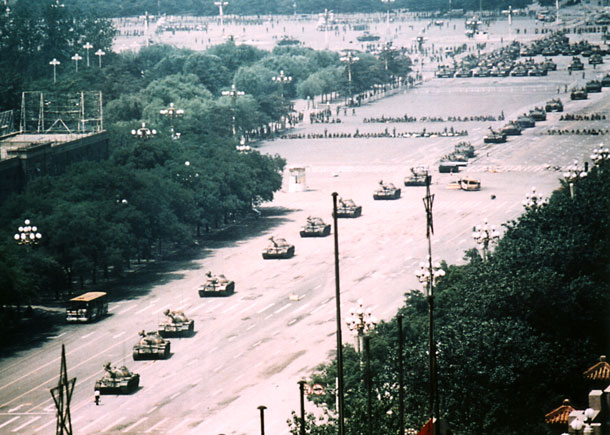 Have you ever seen the full, uncropped Tiananmen square photo before? The part that made history is such a small aspect in the bottom left corner of a larger image that reveals much more of the whole story.