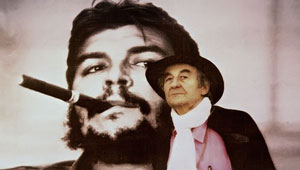 He's larger than life, Magnum photographer René Burri, mainly remembered for his one portrait of Cuban revolutionary Che Guevara.
Below's an interesting video by The Economist discussing Burri's career and some of his most iconic work.
An acclaimed photographer is not determined by his gear, that's Burri's bottom line. You can't do without the main ingredients curiosity, insistence and luck.
He credits "unquenchable curiosity" and putting his nose into things for the best part of his work.
You have to look around, whether surrounded by important or simple people, says Burri, this "unassuming reporter" with an egalitarian approach.
Worried about your own photography that you're not shooting a classic each and every day?
Worried about not-too-perfect shots? Noise?
Says Burri:
Maybe in a photographer's career there are only about two or three, or four images that remain.
BTW, his famed Che Guevara photo of 1963 has quite a story of it's own, as Burri explained in an interview with the Guardian.
+++ Burri published Rene Burri Photographs in 2004. He's currently writing a second book.