Mahathma Gandhi, world's most familiar symbol of peace and founding father of India, and Henri Cartier-Bresson, father of street photography and the modern photo reportage, they both shared a tragic moment in history: Henri Cartier-Bresson was one of the last persons to meet Gandhi while he was alive. It was a very special meeting. Cartier-Bresson spoke with Gandhi only an hour before he was shot and killed, on January 30, 1948, and his photos are the last that were taken of Gandhi.
The Nobel Peace Center in Oslo dedicates an exhibition to the great man Gandhi — and legendary documentary photographer Cartier-Bresson. The exhibition "Eye on Gandhi" tells the story of why he did not get the Peace Prize. Gandhi was nominated many times, and might have won the prize in 1948 had he not been murdered. The nominations of Gandhi from the Nobel Committee archive are now displayed for the first time in an exhibition.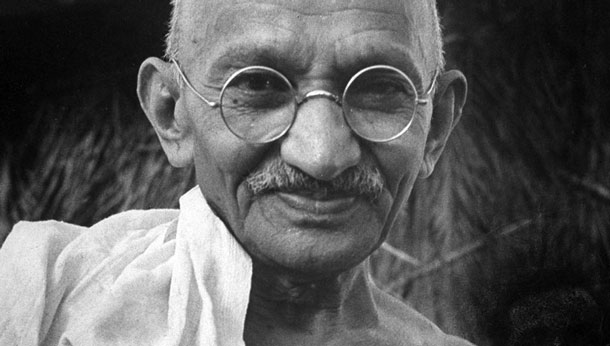 But the exhibit is also an homage to Henri Cartier-Bresson who to this day inspires photographers around the world. When the news of Gandhi's death broke, Cartier-Bresson continued taking pictures. His photos of India in mourning, and of prime minister Nehru announcing Gandhi's death, were shown around the world. Cartier-Bresson's photo series — In India — is a poetic and dramatic documentary on Gandhi's final hours, and about the country and people for whom he became the founding father.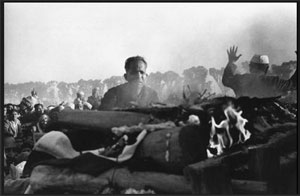 From Christopher Turner's "Expert Witness: Henri Cartier-Bresson" in The Telegraph:
In 1948 Henri Cartier-Bresson travelled to India, then newly independent, on behalf of Magnum, the photo agency he had co-founded the previous year with the legendary war photographer Robert Capa. He was due to take pictures of Mahatma Gandhi breaking the hunger strike he'd embarked on to protest the violence between Hindus and Muslims. An hour after Cartier-Bresson photographed him, Gandhi was assassinated by a Hindu fanatic. Cartier-Bresson's camera went on to capture Nehru announcing Gandhi's death, the emaciated body, the throngs of mourners, the simple funeral pyre, and the scattering of his ashes in the Ganges. The impassioned images were published as a photo-story in Life — it was the biggest break in the forty-year-old Frenchman's already illustrious career.
In this video Magnum Photos' exhibition manager Andrea Holzherr talks about Henri Cartier-Bresson's meeting with Gandhi, and about what charachterizes Cartier-Bresson's photography:
Get to know Henri Cartier-Bresson better in this clip from the 2001 documentary "L'Amour Tout Court" ("Just Plain Love"):
The other parts of the Cartier-Bresson documentary can be seen here.
+++ Exhibition's opening hours are Tuesdays to Sundays, 10 a.m. to 6 p.m., until February 17, 2013, at Nobel Peace Center, Oslo, Norway.