First: all Sony RX1 photos you've seen so far don't yet show off the compact full-frame camera's full potential. Even the ones on the Sony website. This is what Yosuke Aoki, Sony general manager Asia Pacific, digital imaging marketing, tells THEME. What they're lacking? "Maybe they're not yet full 24MP," smiles Aoki*. Sony headquarters Tokyo just released the latest firmware. Further work has to be done until the RX1 is ready for the market in December — in limited quantity. And Aoki gives THEME some insights into Sony's camera development strategy. I guess it's safe to say that they'll be the first camera maker to offer a compact full-frame camera system with interchangeable lenses. "We're studying the possibility," Aoki says diplomatically, but he seems confident that competitors such as Fujifilm "don't have the imager" and necessary technology.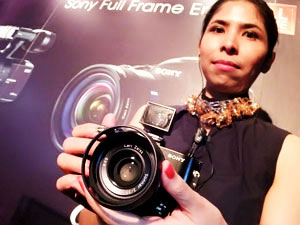 Producing full-frame imaging sensors "is still very costly," says Aoki who calls the camera market "very exciting" even though price pressure squeezes margins. But there's hope for the innovative: "The price pressure on the RX1 is not so much because of its very uniqueness."
Sony aims to sell a lot of these compact full-framers. They're not giving away any figures, but this much is clear: Sony regards technology as its great edge over the competition — and the future of camera development. Well, they seem to be pretty confident that the future is theirs.
"We will further optimize our uniqueness," says Aoki. "Canon and Nikon are traditional camera brands. Sony stands for uniqueness and electronics. Those we'd like to optimize. We plan to use electronics and technology to change camera development."
Among Sony's unique imaging technologies are translucent SLT, leading EVF, Advanced Aspherical (AA) lens elements or the A99's world's first dual AF system. AA? Creating high ratio between slimmest and thickest part of an aspherical lens creates high refraction of light for compact large aperture.
Aoki is not willing to give away anything about the possible future development of a compact full-frame camera system with interchangeable lenses. What he says is this:
With 70mm, the "RX1's and RX100's depth are the same, including the lens!" That's no small feat indeed. If there's any future development of aforementioned system "the size should be compact," says the Sony executive.
As I recall correctly his words on "studying the possibility" of such a system were reiterated by Masaaki Kojima, Sony vice president and senior general manager for the digital imaging business group responsible for Alpha, at the same Bangkok press event on November 7, 2012.
My take? Such a system is still far away from being ready for the market. Maybe in two years? BTW, how nice the RX1 feels in one's hands! Solid weight, great finish and this coldness of the metal… Clearly premium everything.
As for a successor to the groundbreaking NEX-7, they're still evaluating feedback from the market and not hinting at any time frame.
Moving on, Sony's clearly proud of its cooperation with Hasselblad. Aoki sees a bright future. Aside from the Lunar, a repackaged and pepped up NEX-7, there's no specific announcement yet, he says, but "maybe we can develop together."
Adds Sony Vice President Masaaki Kojima, "We would like to corporate to use Sony's latest technology and Hasselblad's professional knowledge."
A cooperation "is a possibility, there are no limitations," adds Aoki, pointing out that both camera makers use Carl Zeiss glass.
Last but not least a few words on Sony's market focus: they're betting on the lucrative, growing premium market and are clearly aiming at the number one position. Well they're totally proud of their new full-frame lineup. As we all know, the larger the sensor, the more light and details the sensor can capture. Their full-frame motto? "Stories Told in Full."

Strategy Toward Matured Category
Maintain the position as market leader:

Camcorder: Absolute no. 1 share with built-in projector, B.O.S.S., etc. (B.O.S.S is a new advanced SteadyShot technology equipped in Sony handycams; it stands for Balanced Optical Steady Shot Active Mode which helps improve SteadyShot function by 13 times).
Compact Digital Still Camera: Increase business within emerging markets

Strategy Toward Growing Category
Strengthen the high value-added product segment (DSLR, mirrlroess, premium/high zoom digital still camera):

Realization of overwhelming image quality by strengthening in-house developed key devices.
Strengthen cooperation with professional solution group.
Offer a new fun imaging experience by utilizing network infrastructure.
Oh, and a last word on reports that Sony pressures rumor site SonyAlphaRumors to close down. Sony management seems to be well aware of the site, they all even seem to read the site, but no one gives any hint that they want it to disappear from the face of the earth.
Says one highly placed management source, "If Sony asks them to close they say the rumors are correct."
Right, they seem to be well aware of the value of this excellent rumor site.
* I think with the 24MP resolution Aoki-san was in fact referring to compression, meaning we don't yet see the full possibility of 24MP.

He spoke of a handful working RX1 prototypes. The model they showed me had firmware 1.0, but they panicked when I wanted to insert an SD card.

I really wanted to make sure there's no misunderstanding, so they repeated again and again that the firmware is not ready yet. They expect shipping of the final polished product in December.