I'm getting reports from readers and trusted sources in various parts of the world that the Leica M Typ 240 arrives in stores worldwide. That's ahead of expected schedule! Well done Leica. Looks like February 28, 2013, is the official Leica M D-Day with Leica boutiques, stores and dealers around the globe receiving first batches of the eagerly awaited hardware.
Judging from emails and messages I get it's safe to say that chances are that your dealer is about to welcome first deliveries of the M by February 28. In most places it's gonna be a single demo model only. I heard the number of a 120 demo cameras distributed worldwide while it's likely that you're soon the owner of an M if your name's on top of a waiting list. The cargo is on its way.
Some shops have already received shipments and will start selling the M on the same day, punctual like a Swiss watch, whether you're in Asia, Europe or the U.S. Well Asia enjoys the time difference advantage, and Leica's priorities might also be shifting along with the world's economic axis when Far East is supplied first …
And no, those shops are not selling demo cams. Staff have demo cams, buyers get production series. One source however tells me some beta testers are still insisting on changes…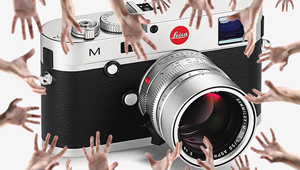 Meanwhile, some shops informed their customers that demo cameras are available for field tests from March 1 onwards. Still, impatient buyers in some locations could hardly wait for D-Day. Leica M sets with three lenses caused quite some stir in Singapore the day before "official" launch, reports LeicaType240.
Before the average Singaporean had chance to knock back his breakfast noodles, the Leica Shop at Raffles Hotel had a long line of people eager to part with S$20,000 or more for a few new Leica M in a three lens kit containing a 24mm F3.8 Elmar, 50mm F2 Summicron and 75mm or 90mm F2.5 Summarit. Staff were besides themselves with anticipation of the delivery expected.
The price for being a "terribly early" Singapore adopter? The equivalent of 16,100 U.S. dollars for the kit. Looks like of the five sets that arrived in Singapore four lucky people already took delivery pre-28.
La Vida Leica has further updates on the delivery status around the world.
Whatever day and hour the M arrives, it looks like Leica learned from the distribution of the M Monochrom when they tried to have the camera available simultaneously in shops around the world. But whether you're in the U.S., Europe or Asia, rest assured the M 240 is about to trickle in.
Another clear sign that the M is on the way is Adobe adding support for Camera Raw and Lightroom. Still release candidates and not final, but this usually tells us the availability of the camera is imminent.
If you're contacted by your dealer, why not drop a comment below telling us when and where Ms are available in your area.
+++ In case you haven't done so yet, you can preorder the Leica M from Amazon (black/chrome), B&H (black/chrome) or Adorama (black/chrome).