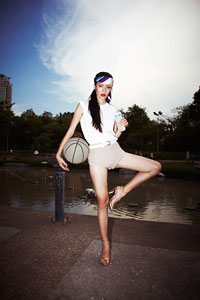 It's a fashion shooting of the other kind, produced in a metropolis that's known for being anything but ordinary. Welcome to Bangkok, seen through the lens of Thai photographer Bigs Vatcharasith whose recent shooting for local 2magazine does away with several prerequisites considered essential, such as: you don't need an extravagant studio setup to shoot great fashion.
First, it's a fashion shooting in an uncontrolled, random environment, giving those images an unsophisticated naturalness you'd never achieve in a studio setup.
Second, focusing is not perfect, lighting seems intentionally accidental and some highlights are blown out. It's this "spontaneity" of Vatcharasith's technique that makes this peculiar work look more authentic and real than — again — a more planned out shooting.
Third: by aiming for the ordinary the model is part of the environment, not extracted from it. She's styled, the environment is not, and the model is still blending in nicely.
Says Bigs:
The theme of this issue was "Home." It was about the ordinary, everyday life of people who live in Bangkok. Where they go, what they do…

About my style, I shoot the way I feel is right. Each assignment is different. I'm not too concerned about what lighting I have to stick with. I have an architectural background, this helps me see the space and how to frame it. I usually don't tell the models much, what they must do or how to pose. I explain what the concept of the shooting is. They understand, they do it, it works quite well.
Vatcharasith's work is a perfect example of how to aim high from a low-budget outset. It goes without saying that he uses professional gear — mostly the Canon 1Ds Mark III for fashion shots. Because he has no other. Sure, it's the gear that determines how high you can aim. Even aiming "low" though, one can still produce excellent images, solely depending on your eyes, heart, vision and timing.
Hey, who needs background blur, a big camera and expensive primes when quite the opposite does very well.