Good things are on the way. In the first part of this short video you'll see a short hands-on introduction of the Samsung Galaxy Camera running on the latest OS Android Jelly Bean. Second part brings an intro of Sony's first compact zoom for NEX cameras. Sony is obviously listening to criticism on the size of its rather massive E mount lenses for the rather compact NEX bodies. Beats the purpose of a compact camera, doesn't it.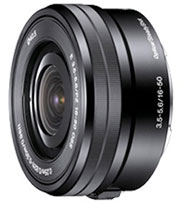 From ePHOTOzine's lens review:
The Samsung camera with a better sensor than common smartphones allows you to install photo apps from the Android or Samsung stores. Disclaimer! The device doesn't work as a phone — and is about to be available in most markets.
The Sony 16-50mm F3.5-5.6 OSS pancake power zoom for NEX comes bundled with the NEX-6 and will be available as lens-only in early 2013.
Although the optical performance of this lens isn't going to set the world on fire, for a reasonably priced kit lens, sharpness, control of CAs and distortion are adequate.

The compact size alone may make this lens a compelling choice for NEX camera owners, but may also be a curse for some due to the delay the collapsible lens system causes when the camera is switched on.

If portability is the main concern for a standard zoom, Sony NEX cameras owners can't really go wrong with this lens.