Biennial Photokina 2012's around the corner. From September 18 to 23 photography world's latest and greatest gear and trends will be on display in Cologne. What to expect?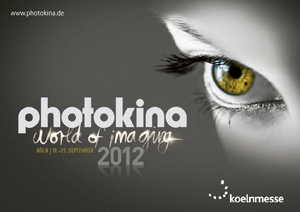 Canon
The 46MP mega megapixel 3D X? A slightly safer bet: 7D Mark II. But wouldn't the astonishing, just released 7D firmware update undermine 7D2 sales? Additionally, there's talks of a second EOS M pro body and a G13.
Nikon
Expect the full-frame entry-level D600 and an 18.5mm F1.8 mirrorless lens for the Nikon 1 system. Also possible: a more advanced Nikon 1 pro body.
Sony
Sony may steal part of the show with the long-awaited A99 full-frame and NEX-6 with application support, that's basically a more polished and affordable NEX-7.
Fujifilm
XE-1 mirrorless and a possibly trendsetting compact. Also on the horizon new XF lenses and major X series firmware updates. Too early for an X200.
Olympus
Two new PEN cameras, but no new top model. Also expect a successor to the discontinued XZ-1 and several new Micro Four Thirds lenses.
Leica
Now that's a tough call. Leica is expected to announce (at least) two new major cameras. According to our interview with Leica an M9/X2 hybrid, potentially mirrorless, as well as the (M10?) successor to the M9/M9-P, possibly with CMOS sensor and some sort of EVF (think Titanium edition's LED solution). Recently some S3 talk surfaced. Plus new S and M lenses.
Panasonic
Panasonic is poised to launch its new flagship mirrorless, the GH3, alongside new lenses.
Pentax
Patience. Looks like the rumored K-3 won't be full-frame. Chances are you'll a second generation 645D medium format.
Samsung
Nothing major from Samsung, at most new NX lenses and accessories.
Hasselblad
Now Hasselblad will be exciting. They keep on sending press release reminders as if they're about to announce something revolutionary. A green Ferrari edition? Seriously, there are rumors about a "larger than full-frame" mirrorless, possibly a latter-day Hasselblad-branded, Fujifilm-designed XPan 2.0.