Steven Klein doesn't believe in immaculate conception. For the New York star photographer neither pregnancy nor birth have anything to do with the religious superelevation a Raffael, Botticelli or Rubens were painting about. He associates pregnancy, the very essence of humanity's most intimate condition, with dildos, leather and lace to stage a shooting the world hasn't seen yet.
Pregnant models are nothing new. We've seen heavily pregnant stars like Demi Moore, Claudia Schiffer or Britney Spears posing for glossy magazines such as Vogue, Vanity Fair and Harper's Bazaar showing off their baby bumps.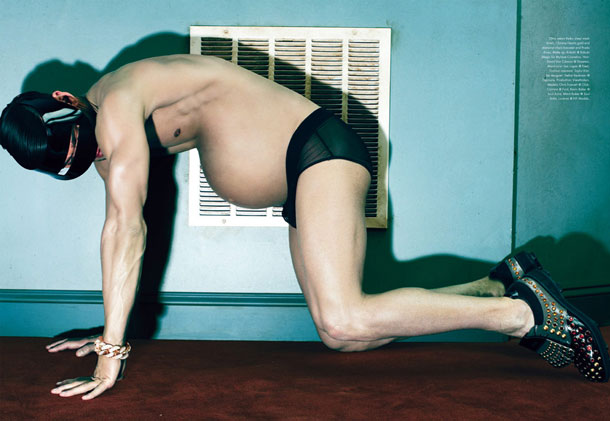 The magazine in question this time — Candy — has a circulation of a thousand copies only. It's sold out within days and and doesn't even have an online edition. Yet it fast gained cult status in the fashion scene. Especially after the publication of Steven Klein's series "Baby Boom." For the first time in the history of fashion photography a pregnant man poses.
Well he's not really pregnant. You might remember Thomas Beatie, the man who gave birth and later on split from his wife… Steven Klein shoots Chris Fawcett for Candy, the top model with the six-pack that already elated Calvin Klein. So Chris Fawcett wears a huge mockup silicon belly and Photoshop did the rest.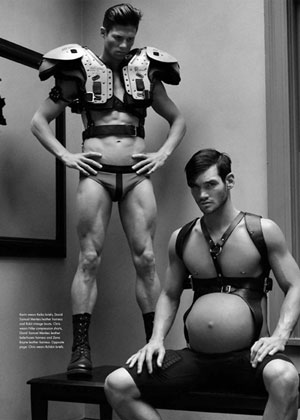 As a pregnant man alone is not yet provocative enough, you stick him in a black fetish outfit. Leather, lace (and a hint of Abu Ghraib in the shot above). Add shoulder arms, dildos in the safe.
Why shouldn't a pregnant man be able to live out his fantasies. No one complains about a pregnant woman mutating into a nymphomania.
It's subtle, esthetic art that makes you think, not just cheap provocation. pregnant Chris Fawcett with the can is here to protect his unborn, the dildos in the safe might symbolize the power of not only might and money, but also of the very acts that keep humanity going.
The American football player watching over pregnant Chris Fawcett even reminds of an angel, as in the religious paintings of the high renaissance and baroque.
Baby Boom with the pregnant fetishists is a brain child of Luis Venegas, publisher of Candy, who produces a variety of magazines as a one-man editorial office. Candy, launched in 2009 and celebrating the mesmerizing sides of transgender, transsexuality, cross dressing and androgyny, is his most successful publication.
It's a transversal magazine, therefore not just talking about the obvious, drag queens and transvestites.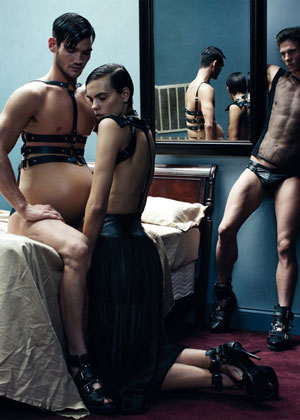 Here's a refresher: Candy's the one who put James Franco in drag. As if it's one of the most normal things on earth.
We are free, Spaniard Venegas once said. And if we experiment it can be forever or for one night only.
Your freedom is up to you.
And that's what Steven Klein's Baby Boom series implies, shot for Candy "that pushes people to take on the persona they've always wanted."
Well Venegas has a recipe for success here. A single issue costs nearly a hundred bucks. Once Candy's published it's sold out in no time.
You're lucky to get a copy on eBay for a few hundred dollars.
Star photographers such as Steven Klein, Bruce Weber or Terry Richardson work for free for Candy.
Photography is also about correct focus and exposure. But also about pushing the limits.
And that's the beauty of it.